Posted by Royce Young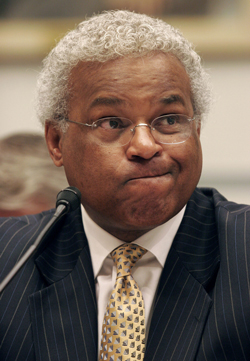 Other than
LeBron James
and his
Heat
buddies, the biggest story of this NBA season starts with an "L" and ends with an "out". It's kind of hanging over everything. Just when we all start having fun and forget about a potential work stoppage, it rears its ugly head again. Bummer.
The basics around where the league and the players are hung up is over the salary cap situation, player salaries and revenue sharing. You know, the usual stuff.
Ken Berger of CBSSports.com dropped a bomb's worth of knowledge Wednesday
updating the current situation. Included in all of that information was a small nugget about other things the players are asking for in addition to all the salary and money stuff.
They want the NBA's age-limit requirement returned to 18.
Berger says the players suggested a few non-cap related things that would "improve the game" and "benefit both our players and the league." One of those is a re-examination of the age-limit rule that currently requires players to be at least 19 years old and one year removed from their senior year of high school before they're allowed to enter the draft.
(Along with the age rule, the NBAPA is also adding this Berger says, which I found incredibly interesting: They want to enhance pension benefits for retired players, which would be paid for, in part, by a so-called exit tax on owners who sell their teams and earn capital appreciation far beyond historic levels. So when an owner that bought his team in 1973 for $19.7 million sells it for $400 million, the players want a tax on that money that would pay a pension for retired players. Anyway, just wanted to point that one out too.)
While the players want the rule back at 18 years old, they also threw in that they want to work with the league and NCAA to incentivize players to stay in school longer. I think we all rolled our eyes there together, didn't we?
Stay in school kids! Money's not important! Ignore the fact we're willing to go to a lockout over it!
The age rule probably isn't as important to the players as the money related issues, but the fact it's included in their recent proposal is interesting. Feelings on the current rule is sort of split. Most think it's an NCAA rule, but it's not. It's an NBA one. While it helps college basketball in some ways by bringing star power like
John Wall
,
Kevin Durant
and
Greg Oden
to college, it also hurts because everyone knows they're one-and-done. Bobby Knight was one of the biggest detractors about the rule talking about how nobody has to go to class the second semester and that is creates an unfair advanatge to the big name schools and recruiters. And it's easy to see that point.
The idea behind the original creation of the requirement was to help prevent the massive busts that were coming straight from high school, thus ruining potentially solid careers. Kids that has dollar signs in their eyes and skipped a college scholarship because an agent told them they'd make millions in the NBA as a first-round draft pick. But for every
DeShawn Stevenson
, Jonathan Bender and
Kwame Brown
, there's a
Kobe Bryant
, LeBron James and
Dwight Howard
. It's always worked both ways.
And it's not some guarantee that if you go to school you won't bust. Ed O'Bannon, Robert Traylor, Stromile Swift, Marcus Fizer... lots of names there too. I
guess
they got an education or at least a few college credit hours out of it, but the rule doesn't guarantee anything.
Players want to be able to make money. And the fact that the NBA is preventing an 18-year-old from having the opportunity to have a job in the NBA obviously bothers the NBAPA.
It's a small issue and probably not one they're worth fighting that much for. But it's in the current proposal. The fact it's on their mind is interesting nonetheless.
But what's so ironic is that a lockout could greatly affect players like Terrence Jones from Kentucky, Harrison Barnes from North Carolina, Jared Sullinger from Ohio State and Kyrie Irving from Duke. Guys that would likely be one-and-done and headed for next June's draft. Except a lockout may make them think twice about it. They may either return to school and let the CBA stuff get settled or head to Europe for a season, especially the ones that have been tanking in their academics because they never thought they'd come back for a sophomore season.
But remember, the NBAPA wants to educate and encourage players to
stay in school.
And they may be doing exactly that, only by accident.