Posted by Royce Young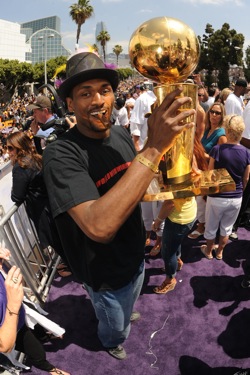 I keep telling you guys,
Ron Artest
is awesome.
Over the summer, he pledged to
sell his NBA championship ring in support of mental health awareness.
And the ring is set to be sold on Christmas day. Artest has struggled with that during his career and saw how counseling had an incredibly positive impact on him. So naturally, he's doing his part to get the message out and raise awareness. And the ring's a pretty darn good start.
But Artest isn't done. No way. This isn't Ron Artest we're talking here. So on top of the ring, Artest told
Scott Howard-Cooper of NBA.com that he intends to donate half of his $6.79 million salary to mental health awareness.
"I'm definitely considering the whole thing," Artest said. "Or maybe 60 percent."

Although he may not finalize details until the summer, he called the plan "very serious. I've talked to my wife about it already. It's a powerful message. The message is about the inspiration. That's what I want, to inspire people. People will be like, 'Wow. Why is he doing this? Oh, that's why. Wow. We need to help educate.' I didn't come [to the Lakers] for the money. Obviously I could have gone somewhere else, even a lesser market. Pay less taxes. The taxes here are freaking killing me, you know what I'm saying?"
Yeah taxes are rough. But how about those tax cuts! (OK, not going there.) Clearly though, this isn't just about the tax break. It's about sending a message and one Artest is putting across pretty loudly.
Artest told Howard-Cooper he considered doing this in 2006-07, his first full season with the
Kings
, but his manager talked him out of it. But at that time, he didn't have a charity in mind. He just planned on donating the salary towards college and high school hoops scholarships. Artest said he was prepared at the time to move into an apartment with his family if money became a problem.
I don't know what else to say. Artest has undergone just about the wildest public relations transformation ever. From the brawl at The Palace, to the NBA's bad boy, to now being such a charitable person that
also does things like call radio shows
and pretend to be
Luis Scola
. He's gone from hated to unbelievably endearing. Only Ron Artest.
Artest has come a long way in his NBA career. And he's putting his money where his mouth is to try and show it. Hats off to him.