All sorts of theories are flying about the future of the New Orleans Hornets. Posted by Ben Golliver.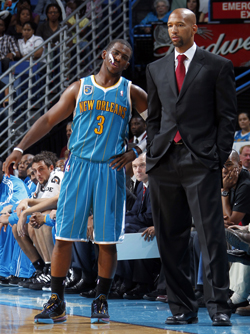 Given the mess that is the New Orleans Hornets, you have to feel bad for three people: new GM Dell Demps, new coach Monty Williams and all star point guard
Chris Paul
. The three met over the summer and apparently hashed out a workable relationship, one which kept Paul happy in the short term and led to a strong start to the season, delivering a whole bunch of promise to start the season. Now, with the team's
financial records being leaked
and
a sale to the NBA underway
, their hard work and attempts to keep things in house and under wraps are getting blown up in a big time way. It's only been 48 hours since the NBA announced it would take over control of the team, and the speculation and rumors about
possible relocation
have kicked into full gear. Here's a rundown, in no particular order.
The Times-Picayune reports
that Morris Bart, a New Orleans attorney is ready to become a minority partner and hoping for a 10% stake.
"I grew up in New Orleans and I went through the bitterness of the Jazz pulling out and leaving New Orleans,'' Bart said. "I would like to do my part to save the new generation of kids from having to go through that same experience. I'm living here and I think the team has to have local ownership. You've got to have a big fish that can come in and buy 50 percent and then the minority investors can follow along. I feel the NBA strongly wants to keep the team in New Orleans.''
Fletcher Mackel, a sports anchor for WDSU in New Orleans,
tweets
that he is "hearing rumors about David Filo buying Hornets. He's Co founder of Yahoo!, worth 2.9 billion." Filo has ties in the region, having been raised in Lake Charles, Louisiana and attending Tulane University. KMBZ radio in Missouri
is reporting
that Kansas City Mayor Mark Funkhouser "says he's been involved in talks to bring the Hornets to Kansas City." Kansas City, of course, has an NBA-ready arena and has been short-listed by multiple media outlets as a possible relocation home for the Hornets. Finally,
HoopsWorld.com
writes that contracting the Hornets is an option that hasn't been discussed enough.
Commissioner David Stern has refused to rule out contraction as a possible option when the owners meet with the NBA Players' Association to hammer out a new Collective Bargaining Agreement (CBA) this summer.
The first and perhaps hardest part of the process is finding an owner willing to sell their team to the NBA for eventual dissolution. With the acquisition of the Hornets, the league has already completed that step.
What to make of all of this? That there is local interest cropping up immediately in Louisiana is a good sign. Silence in the short term would have been deafening, and a death blow to hope for basketball fans in the Bayou. That people are interested in saving the team is a crucial first step. As for contraction, it seems like a very unlikely possibility in this situation, given the strong interest from other markets and reported interest from overseas owners regarding buying into the league. By purchasing the team from previous owner George Shinn, the NBA committed significant resources (reportedly $300 million) and will be looking for a return on that investment. It's difficult to see commissioner David Stern wanting to swallow that loss whole, especially if there is foreign demand for the right to enter the NBA. Finally, we come full circle and return to our sympathies to those currently working for and playing for the Hornets. Single-minded focus is one of the highest virtues in professional basketball. Being able to tune everything out and carry out the task at hand is what separates winners from losers, above-average teams from average teams, and champions from the rest of the pack. What's being asked of the Hornets and their staff between now and whenever the team is sold -- remember, there is no set goal for that to happen, as Stern is preaching patience -- is a nearly impossible task. Focusing amidst such a storm is simply not a workable, functional reality.