Here's a look at the 1st quarter and what we've taken away from it.
Posted by Matt Moore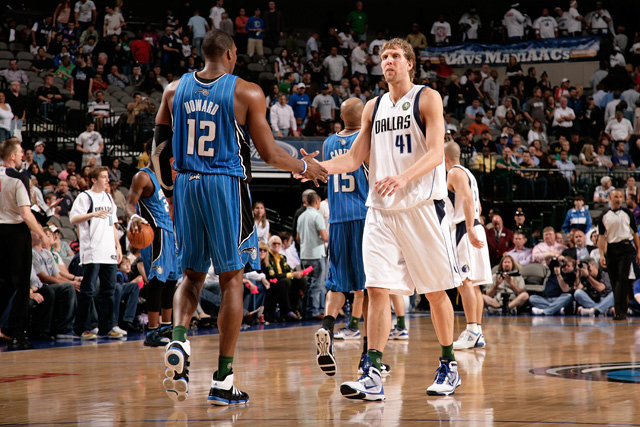 We're a quarter in to the season, and it hasn't gone exactly according to plan. Some things we thought would happen, some things we didn't. As we head towards the season being halfway through, here's a look back at the first quarter of the season and what we thought about it.
MVP:
As Ben Golliver will be telling you later,
Dwight Howard
makes a pretty strong case for first quarter MVP. Royce and I wound up on the Big German's side of the aisle, though. With the
Mavericks
on a ridiculous winning streak (make it 11 after blasting the Comrade's Nyetzkies on Thursday night), Nowitzki has been off the charts so far this year. The Mavericks look better this year because of their depth and their defense, but without Nowitzki, they'd still be nowhere.
As Nowitzki's career begins to wind down (we think?), it's important to let go of the past where people questioned Dirk's intensity, toughness, and clutchness. He's been one of the best players in the world for the past ten years, and the fact that he's still putting together stretches of games like this only confirms that. Don't believe me? Check the elbow.
ROY:
Boy,
was I wrong
. Again.
John Wall
hasn't been a slouch by any means, but to compare the impact the two has on the court is to examine the ballistic missile barrage that is
Blake Griffin
on a nightly basis. It's not just the dunks (but trust us, we'll get there). It's things like the way he absolutely blew
Lamar Odom
off the block, and his intensity and athleticism while rebounding. It's the way that even though this
Clippers
team has no hope of winning on any given night, Griffin looks like he's dying for a win, to try, to compete. He's the only unanimous pick for a reason.
Biggest Surprise:
We're split between the
Knicks
, who were supposed to be better but not this better, and the
Pacers
, who were supposed to be bad and are really pretty good.
Amar'e Stoudemire
has the Knicks rolling, and
Danny Granger
alongside
Roy Hibbert
is making up one of the best frontcourts in the NBA this year. Great to see teams surprise us in a good way.
Best Overall Performance:
We're all very impressed with the
Celtics
, basically. Except Ken. But we think that's because he had a bad cab ride. Maybe it was bad chowder. No, couldn't be that, there's no such thing as bad chowder in Boston. Probably the cab ride. Anyway, the rest of us are completely horrified of Boston coming into our homes at night and subjugate us under their imperial rule.
Biggest Letdown:
Ken and Ben (hey, that rhymes!) have a soft spot in their hearts for the sad plight of the Blazers' health. I'm more concerned about Houston and why they're not competing among the West's elite (but they're getting there), and Royce has the same question about the
Bucks
in the East. If you couldn't see this coming in Portland... you probably haven't been paying attention for the past, oh, forty years.
Ticking Time-Bomb:
While Ben Golliver frets over
Chris Paul
continuing to keep his cards close to his vest, the rest of us are alarmed at how
DeMarcus Cousins
seems hell-bent on alienating his teammates and coaches. Tick, tick, tick.
Best dunk:
Yeah, sorry, not going to be able to get over this, regardless of
whether he traveled or not
:
Here's a look at our votes for the first quarter of the 2010-2011 season.