Posted by Royce Young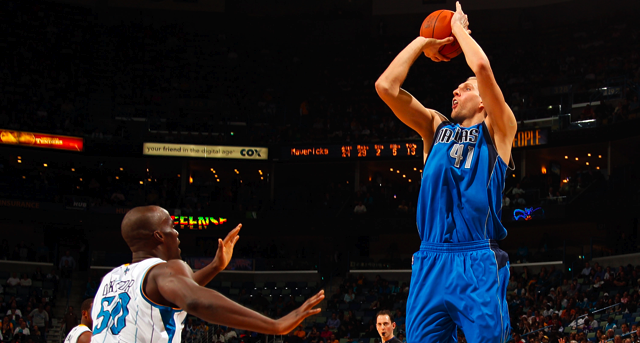 It's never too early to start thinking about the All-Star Game. Well, I take that back. It probably is too early. But I wrote the body of this post before the intro so I'm pressing on anyway.
We're a quarter of the way done with the 2010-11 NBA season. Everybody has at least 20 games under their belt. We've learned a lot. The
Heat
can be good, the
Spurs
are great, the
Lakers
oddly struggle at times,
Blake Griffin
is exciting and Boston won't let you score... ever.
But on top of that, a few players have started that whole breakout thing. And a lot of the old good ones have stayed really good. The NBA truly has a ridiculous amount of talent right now. Seriously, this is a great time for the league. Except for that lockout stuff but I'm not going to mention that.
So because I think a lot about non-important things like the All-Star Game and Chick-Fil-A sauce, I began to notice how tough it's going to be to narrow down a 12-man roster for both conference. If there were an At The Quarter All-Star Team, it would already be quite a task to select that.
So naturally, here's my At The Quarter All-Star Teams:
WESTERN CONFERENCE
Starters:
PG: Deron Williams (21.8 ppg, 10.1 apg)
I'd say the starting Western point guard spot is the toughest to pick in the whole league. Look at the candidates:
Chris Paul
,
Russell Westbrook
,
Steve Nash
,
Tony Parker
,
Stephen Curry
. But Williams is the starters right now because he's commandeering an elite Western team, along with having terrific numbers.
SG: Kobe Bryant (26.6 ppg, 4.5 apg)
Kobe is the type of player that will probably be an All-Star Game starter for life since the fans vote make that happen, but it's well-deserved at this point. He's second in the league in scoring and is having a classic Kobe season. Big shots, big plays and big numbers on the biggest stage.
SF: Kevin Durant (27.6 ppg, 7.0 rpg)
By his standards, he's struggled a bit. His percentages are a bit down, he's missed a few games because of an ankle sprain and then a sore knee and he's seen his teammate Russell Westbrook steal some of his
Thunder
. But KD still leads the league in scoring and is still the leader on a very good Thunder team.
PF: Dirk Nowitzki (24.9 ppg, 7.4 rpg)
If I were voting, Dirk would be getting my MVP vote. Which would be weird because the season's only 25 percent done and I also don't have a vote. But Dirk is having one of his finest seasons and leading the hottest and second best team in the league (tied with Boston at 17-4). The
Mavericks
have found a new identity behind defense and ball pressure, but Dirk is the same old awesome Dirk.
C: Blake Griffin (20.0 ppg, 11.7 rpg)
Remember when the West used to be so stacked with big men that figuring out the starting front court was a nightmare? It's not that way anyone. There's been a shift to point guard in the West for those issues. But really, who do you start here? The best "center" is probably
Tyson Chandler
and maybe
Al Jefferson
right now. Both have been good, but I'm going to fudge and give it to Griffin. His numbers are worthy at 20-12, but he's everything that an All-Star should be. He has the league buzzing, every night is a potential highlight-fest and he's the most can't-miss guy going. To me, if we're selecting an All-Star team right now, he's got to be on it.
Bench:
Russell Westbrook, PG:
Westbrook leads Western point guards in scoring, plus he's got better "LeBron" numbers than LeBron at 23.7 ppg, 8.6 apg and 5.5 rpg.
Chris Paul, PG:
Weird to have CP3 on the bench considering he's in the top two or three for MVP, but again, the West is stacked. His team's little slide lately isn't helping either.
Manu Ginobili, SG:
The best team in the league doesn't have an MVP candidate? Who says so? Because Manu is certainly playing like one, at least in my mind.
Monta Ellis, SG:
Ellis barely gets the nod over
Eric Gordon
who is also having a really good year. They score virtually the same amount but Ellis has simply been a bit more efficient.
Luis Scola, PF:
The
Rockets
may be struggling and disappointing, but Scola hasn't. Coming off a big World Championships where he raised expectations for himself, Scola has lived up to it in every way.
Kevin Love, PF:
He's leading the league in rebounding, and it's not close (15.5 per game,
Joakim Noah
is next at 12.3). This season there have been 11 20-20 games. Love has six of them.
Tyson Chandler, C:
The last spot is where things get a bit hairy. Chandler has been having a re-birth of a season with the Mavericks, protecting the rim and playing solid offense. And just barely does he get the nod of Al Jefferson for the lone center on the roster simply because playing both ends counts for something.
Tough cuts: Stephen Curry, Steve Nash,
Carmelo Anthony
,
Rudy Gay
.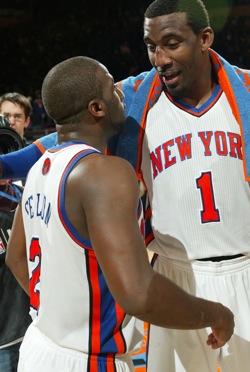 EASTERN CONFERENCE

Starters:
PG: Derrick Rose (25.1 ppg, 8.1 apg)
Rose wondered why he couldn't be an MVP candidate before the season. And there's no doubt he should be, if only he could get his team to win a few more games. But he leads all point guards in scoring (fourth in the league) and is dishing out a career-high assist average. Rose is the total package right now at point and really, one of the top two or three players in the entire conference.
SG: Dwyane Wade (22.0 ppg, 6.5 rpg)
His numbers are down a bit, but there's an obvious reason why. I'll be honest, if there was another really impressive shooting guard in the East, Wade wouldn't be such a lock. But because the East is pretty thin there (
Stephen Jackson
?
Ray Allen
?
Vince Carter
?) Wade is the starter by default.
SF: LeBron James (24.1 ppg, 7.3 apg)
Despite what his numbers say, he's still the most talented and gifted player in the game. And it's not like the stats aren't excellent anyway. He's just set a bar so high for himself there that all of a sudden 24-7-5 doesn't look so great.
PF: Amar'e Stoudemire (25.7 ppg, 9.1 rpg)
Not only are the
Knicks
winning, but Amar'e has been fairly awesome this season. He's third in the league in scoring and has just broken a franchise record held by Bernand King for most consecutive games with 30 points (six). That's like, pretty good.
C: Dwight Howard (20.9 ppg, 12.1 rpg)
Forget the fact there's not a ton of competition here. Howard has maybe been the most productive NBA player this season. He's scoring at a career-high rate, plus putting up his typical big rebounding and blocked shots numbers. His developing post game is no joke and he's becoming the total package at center.
Bench:
Rajon Rondo, PG:
His 14.1 assists per game are obviously eye-catching, but he's also turning it over 4.0 times a game, second in the league.
Raymond Felton, PG:
Yep, seriously. He's playing on a winning club and his numbers are great! No really, they are! Look at them, I promise I'm not lying!
Ray Allen, SG:
Nothing spectacular from the league's best shooter, but his stats are solid, his team is good and he's already hit a number of big shots just a quarter of the way in.
Danny Granger, SF:
Come real selection time, he might get squeezed for a bigger name, but he's made the team once. He's a great scorer and now that he's on a decent team, he's deserving.
Kevin Garnett, PF:
As long as he's still moving his way up and down the court, he's an All-Star. Plus, don't look, but he's actually having a pretty darn good season.
Roy Hibbert, C:
A chic pick for Most Improved, the 7'3 Pacer big man has a well-developed game. Post moves, power moves and even a distance jumpshot.
Andrea Bargnani, C:
Probably a stretch especially since Al Horford likely deserves it more, but Barge Nanny is sixth in the East in scoring and in his last few games has really looked fantastic, punctuated by a 41-point explosion against the Knicks Wednesday.
Tough cuts:
Al Horford
, Joakim Noah,
Paul Pierce
,
John Wall
,
Shaquille O'Neal