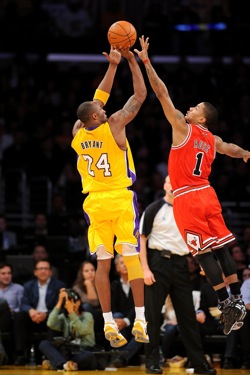 Posted by Royce Young
Everyone keeps waiting on the older generation of NBA stars to start passing the so-called torch to the younger, rising group of stars. The old dogs like
Tim Duncan
,
Dirk Nowitzki
,
Steve Nash
and
Kevin Garnett
hear a lot about all the up and comers.
No doubt there's a ton of talent in the league right now. And no doubt there's probably as much young talent as there's ever been. I mean, start going down the list.
John Wall
,
Blake Griffin
,
Derrick Rose
, basically the entire
Thunder
roster... the league's going to be set for a while.
But that doesn't mean the older players are ready to hand over the reins by any means. Especially
Kobe Bryant
. We should all know better.
After the
Bulls
lost a tight game to the
Lakers
last month, Kobe had a brief conversation with Rose. So a reporter asked Bryant if there was anything metaphorical to take from that. Anything to suggest that the torch is being passed to Rose. And Kobe answered in the only way we should've expected.
Via K.C. Johnson of the Chicago Tribune:
"Oh, sure, but I ain't passing s---." Then Kobe was asked if Rose has to come and
take
this torch from Kobe. Bryant grinned and said, "He can certainly try."
Obviously Kobe is one of the most hyper-competitive guys to
ever
play so it doesn't matter if he's 40, he's going to think he's still the best out there. Michael Jordan said a few years ago that he still thinks he could play with just about anybody in the league. That's how the great ones look at their ability and their grasp on where they stand in the game. It's not like someone's going to just come and take away their perch.
Though at some point, things will be about Rose,
Russell Westbrook
,
Kevin Durant
, Griffin, Wall,
Tyreke Evans
and the younger class. But like Kobe said, there's no passing it. Those guys have got to come
take
it.