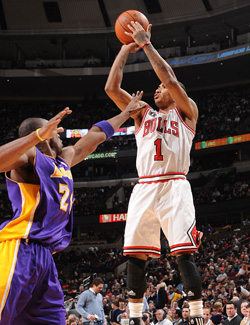 Derrick Rose delivers in the clutch for Chicago while Kobe Bryant is in a bit of a late-game slump.
Posted by Matt Moore
Kobe Bryant still holds the torch. He still has at least one more championship left in him, and Derrick Rose has much to learn about how to be a champion in the NBA. And Kobe definitely won't be passing Rose that torch any time soon,
as he said earlier today
.
But that might be okay, because it would appear Derrick Rose is well on his way to taking it, after a scintillating performance to close out an
89-84 win
over the
Lakers
in Chicago Friday night. What's odd is that it was a similar game for both stars, both good and bad.
Both players had 5 rebounds. Bryant had seven assists to Rose's nine, while Kobe hada single turnover to Rose's four. Bryant's 23 points came on 23 shots, Rose's 29 on 25. So we're not exactly talking about hyper-efficient basketball. It was a defensive struggle on both sides, and one that the
Bulls
simply seemed to break away from in the closing minutes.
Rose hit a monster three-pointer falling out of bounds as the shot clock expired off an inbounds play with 5:30 left to push the lead to double digits. He also scored 5 points in the final 1:30 of the game while Bryant finished with two badly missed contested threes and two free throws in that same time span.
It was a continuation of a disturbing trend for the former MVP and five-time NBA champion. It's December, which means it's meaningless, and betting against Bryant in May is something you can go do all on your own, but it is a trend worth noting considering Bryant's no longer a spring chicken. Consider the following:
In LA's "too close for comfort" win over Washington, Bryant missed a 3-pointer with 1:28 remaining, which allowed the Wizards to close their deficit to a single-possession before closing it out. Bryant is still able to create fouls when he decides to play savvy instead of launching shots, as he did at the 1:02 and :10 mark. Bryant also missed a jumper in the middle of that time frame.
Bryant did seem to have it in LA's "seriously, too close for comfort" "road" win over the Clippers, nailing two huge shots in the final 42 seconds. Being guarded by Eric Gordon who is considerably smaller probably helped with that, but it's important to note that Bryant has played well inside of the final 1:30 of a close game lately.
The Rockets game was probably the low point of this stretch , where Bryant missed three three-pointers in the final 1:30. With 2:16 remaining, Bryant hit a second free throw to make it a three-point game. The Lakers would lose by 12. The big issue in this one was the same as in the Bulls game, with Bryant electing to take early-shot-clock loooong threes. Those same shots he used to hit with amazing regularity.
Against the Grizzlies, it was bad-good-bad , with Bryant missing a three-pointer at the 1:34 mark, hitting a layup to close the game within 2, and then having significant trouble on the final possession. Mike Conley turned the ball over and Bryant got the outlet from Gasol. Getting to the lane, Bryant said later he lost his handle, which could be true. But even with a lost handle, he could have recovered for a shot had normally-earthbound O.J. Mayo not come up with a terrific defensive contest to force Bryant to kick to Artest who had a potential game winner blocked.
Against Indiana? A jumper with 1:10 to go, then three misses (two three-pointers, similar to the Rockets game in attempts), finishing 3-8 in the final four minutes.
Against the Jazz, Bryant was on fire, but then in the final 1:30, had one turnover and no shot attempts.
Was this the entirety of Bryant's play in the last two weeks for the Lakers? Surely not. The Lakers also obliterated Sacramento. Bryant has still been the featured scorer in all these games, if not the leading scorer. And let's stress this again: it's
December
. The Lakers are still arguably the best team in the league, and they could not care less about this stretch of games. They don't play for now, they play for June and the three-peat. Furthermore, they're in need of star performances because of their lack of depth due to
Andrew Bynum
's injury.
But the question has to be, does Bryant
need
to be taking these kinds of shots? They're still in almost all these games, which shows how good the team is overall, and Bryant is definitely part of it. But at least
right now
(not in June), it would appear that the Lakers would be better off focusing on creating quality shots rather than hoping Bryant bails them out with long, contested threes.
It should also be noted that a quarter of the way through the season, Bryant is shooting his lowest field goal percentage (44.1%) since 04-05, as well as his lowest three-point percentage (30.5) since 00-01. His free throw shooting (85%) is up 4% from last season, which has kept his
true shooting percentage from being historically bad
for such a stellar career.
It's entirely possible that Bryant's still recovering from surgery, or that he's simply in a standard shooting slump. If it seems like I'm hedging here, it's because, well, it's Kobe freaking Bryant. But there's no way of getting around the fact that Bryant has not been clutch during this bad streak of games for LA. Nothing to worry about in December, but something to note as we watch the season progress regardless.
As for Rose, the legend continues, and he is now shooting well above his career mark from the arc. Adding that element to his game makes him a much different player, even as his pull-up jumper still is in its infancy. After a drubbing by the
Celtics
in
Carlos Boozer
's second game back, the Bulls are now on a roll, and look deadly in every phase of the game.
Two careers, one filled with championship trophies and a history of clutch, the other just getting started. Even in a game where December contests go completely unnoticed, you have to wonder if this isn't the type that will be remembered when Rose's career is looked back upon. Each step is a legend, and all that.