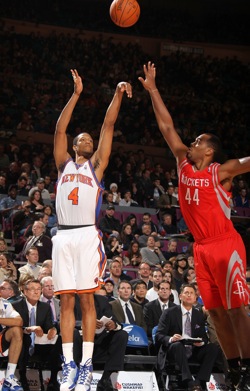 Posted by Royce Young
Anthony Randolph
has always been considered one of the most unique, talented and gifted players in the league. And when he was traded to New York as part of the
David Lee
trade, the common thinking was he'd have a chance to break out some.
That hasn't totally happened yet, but Randolph may have another unique value to the
Knicks
. He may be the player that brings them
Carmelo Anthony
.
According to the New York Daily News,
the Knicks have fielded several calls from different Western Conference teams regarding a trade for Randolph. One of those has been with the Houston
Rockets
, who would likely send back the first-round pick that the Knicks traded them in last season's
Tracy McGrady
deal.
Knicks president and general manager Donnie Walsh has said that
he regrets giving away that pick
and has been working to get a 2011 pick back. The
Nuggets
have made their wishes clear that a first-rounder needs to be included in a potential trade, something the Knicks don't currently have.
A couple months ago, there was news about
the Knicks having a first-round pick trade available
to them when they needed it. Maybe this was it.
Ken Berger's recent report that the Nuggets are now moving into trade mode
with Anthony means teams will likely get a lot more serious to position themselves to get him. The Dec. 15 date is almost here when players that were acquired during the offseason can be moved (Randolph is one of those). And in Berger's report, it's clear the Nuggets will trade Anthony by the trade deadline if he's absolutely not going to sign an extension. Which he's not going to.

We've known that Carmelo wants to play in New York for a while, but the question is just whether or not the Knicks could put together an acceptable trade for him. Now, it looks like they're getting closer.

The question is, is Walsh going to have any hesitations with the team playing so well right now? Obviously a deal for Carmelo is a little bit down the line so the circumstances will likely be different. But with the Knicks having won 12 of 13, is Walsh willing to mess with what's working? I'm saying definitely yes, because all the Knicks have proven is that they're capable of beating average and bad teams, not the elite squads. The Knicks are headed in the right direction without Carmelo. So they probably feel like he might be the missing piece to something big sooner than later.