Posted by Royce Young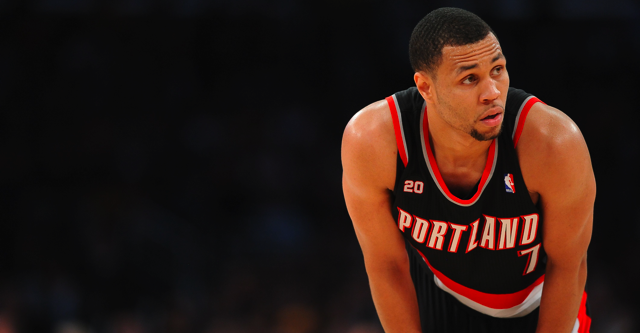 I
love
Brandon Roy
. Well, let me check that. I love the
healthy
Brandon Roy.
Truly, (healthy) Brandon Roy is one of my top five favorite players in the league. He's one of the most devastating one-on-one players in the league. He's one of the top closers in the game. He's a big shot taker and shot maker. He's a star. An All-Star.
And I miss that guy. And so does the current Brandon Roy.
Against the
Suns
Friday night, Roy basically said,
Screw the minutes thing - I'm playing this thing out.
And he did, putting up 26 points in 41 minutes, leading his Blazers to a big win over the Suns on the road. He looked like himself for the first time in weeks. After the game,
Roy spoke candidly with The Oregonian about his limitations
and the frustrations that are coming with it.
Q: You played a lot of minutes. Coach Nate McMillan said you told team trainer Jay Jensen that you felt good.
A: "I just wanted to play. I'm done with the whole minutes thing. I just want to play. So I told Jay let's just open it up and start playing and no more monitoring minutes."

Q: What do you mean?
A: "No more monitoring minutes, I'm just going to play."

Q: That's what you said?
A: "Yeah."

Roy has been on a minute count since his ragged knees became more of an issue. His left knee has been swelling and causing him discomfort. He's had surgery on it before, as well as the right. As a result, the Blazers have tried to limit his usage. But clearly, he's done with that. He's sick of playing two minutes in a quarter. He's sick of only seeing the court for 25 total in a close game. He's the Blazers' star and he wants to be on the floor. Understandable.
Because of the frustration that has come with being held back by the team, Roy talked a little in the interview how he doesn't feel like himself. "[I'm} not worrying about it anymore. If I'm going to be hurt, I'm going to be hurt. If I'm going to play, I'm going to play. So no more trying to balance it during games. If I'm going to play, I'm going to play. If I feel good enough, then I'm going to play."
The whole thing has just gotten to him. Roy knows he's an All-Star talent. He knows he's one of the premier players in the game. He knows the Blazers just gave him a max extension a little while ago. He
wants to
earn
that. He wants to have his name beside
Kevin Durant
,
Kobe Bryant
,
LeBron James
,
Dwyane Wade
and all the rest of the great players in the game. But right now, he's just known as another injured Blazer player. And that's driving him nuts.
But things aren't going to change. His knees aren't going to heal all of a sudden. Roy has to come to grips with what he is and go from there. If that means re-inventing his game, that's what he's going to have to do. If that means he's going to just forget trying to protect it and play until he can't anymore, then that's what he's going to have to do. He said in the interview he's not thinking about it anymore. That's what he's got to do.
That's tough though, for a guy that sees himself as an All-Star. To go from that to role player isn't something easy.
Wesley Matthews
' rise in Portland has been some of good fortune (and maybe the reason they "overpaid" to get him), but it's also pushed Roy aside a bit. Roy has to learn to not judge himself based on what the final statistics say. Really, it's a mental adjustment for him. But by no means an easy one. It might be easy for us to just say, "Adapt to your new role, Roy." But that's not him. He's a star. It's just his body's fault for betraying him.
Roy's never not put up numbers. He's never not played well. He's used to the box score treating him right. And lately it hasn't been. He's been seeing 22 minutes, 12 points and two assists lately. Which probably made the 26-point night in 41 minutes in Phoenix like heaven to him.
You can't fault Brandon Roy in any way though. How can you blame him? It's only natural for a player who has been where he's been and gone through the injuries he's gone through to get frustrated with himself and the situation.
But it's what he's been dealt. He has to start making the adjustment. He has to just accept what he is now. That's way easier for me to write than for Brandon Roy to understand. And that's why he's decided to say forget it for now. He knows the kind of player he is. He's a star. An All-Star. But he's not the same guy that came into the league five years ago. Which is a shame, not just for Brandon Roy, but for us too.