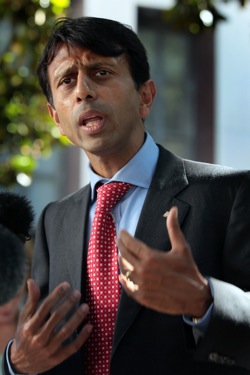 Posted by Royce Young
According to The Times-Picayune, Louisiana Gov. Bobby Jindal is quietly making plans to keep the Hornets in New Orleans.
The report says Jindal's chief budget architect has "quietly formed an interagency task force aimed at coming up with ways to keep the National Basketball Association New Orleans Hornets in Louisiana for the long term." So take that as you want. With all signs pointing to the team leaving, having the governor's support could be vital.
From the report:
"We're looking at a number of things that we're not ready to talk about," Commissioner of Administration Paul Rainwater said last week. With the state facing an expected $1.6 billion budget shortfall, it's unlikely the state will have any general fund tax dollars available for an incentive package, but Rainwater said there are other ways to structure a deal.

"We've been talking to the team, and we've been talking to the NBA and potential buyers for some time now about keeping the Hornets (in New Orleans)," Rainwater said. "We've discussed some creative ideas to keep them here in Louisiana. We're not going to do anything that jeopardizes funding for higher education and health care."
With the attendance issue becoming a growing problem, Gov. Jindal is asking fans to buy as many tickets as possible for the team's upcoming games. Of course the effort is to try and meet the attendance threshold in the team's existing contract with the arena is met. Right now, the team is way, way short. Even Friday's game against the Thunder that saw 14,428 was under the attendance threshold of 14,735.
Under their lease agreement with the state, Hornets can opt out if their average attendance is not 14,735 by Jan. 31, 2011. Not including Friday's game against the Thunder, the Hornets need to average 15,579 for their next 13 games. The Hornets had one of their smallest crowds of the season – 10,823 – for Wednesday night's game against the Detroit Pistons.
So even with the help of the state, things aren't looking terrific for the team. But it's a small victory for the Hornets to have the support at least.