Cleveland Cavaliers forward J.J. Hickson is unhappy with his role and the team reportedly might be open to trading him. Posted by Ben Golliver.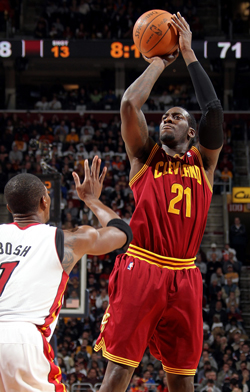 When
LeBron James
left Cleveland last summer, the Cavaliers immediately transformed from perennial title contender to rebuilding hope-seller. To make matters worse, no one on the roster really inspires much hope, save young, athletic forward J.J. Hickson, who showed out at this year's Las Vegas Summer League and looked primed to step into a role as team centerpiece in the short-term.
Hickson's overall numbers -- 23.6 minutes, 10.8 points, 5.2 rebounds, 9.2 field goal attempts -- are up this season, but his shooting percentage has dipped dramatically -- from 55% last season to 44% -- and Cavaliers coach Byron Scott reportedly hasn't seen the level of consistency that he is looking for, benching Hickson last week.
Cleveland.com reports
that Hickson has struggled with the move to the bench and wasn't pleased with how Scott is treating him.
"I'm not adjusting very good," he said. "I don't think it's any secret. Coach [Byron Scott] knows I'm not happy. My teammates know I'm not happy. But as a professional basketball player, you deal with it as a pro."
Hickson wasn't particularly pleased with how the demotion was handled. "The night I didn't start I didn't know I wasn't going to start until 30 seconds before we went out to go warm up," he said. And he wasn't thrilled with how Scott explained what he has to do to change the situation. "[Scott] said, 'Play with energy,' which I think I do, and that was about it," he said.
Meanwhile,
News-Herald.com reports
that the Cavaliers may be reconsidering their position on Hickson when it comes to trades.
Up until now, forward J.J. Hickson has been untouchable in any trade talks. The Cavs might be close to including his name in possible deals. He doesn't seem like a happy camper right now.
Nothing in the NBA tests you mentally like losing, and the Cavaliers have lost six straight games and are 2-10 in their last 12. That discord between new coach and young player should surface at this time is no huge surprise, and this feels like a classic coach/player conflict. You can easily see where both sides are coming from. Scott, former NBA champion, looks at Hickson as a young player who should be playing to earn every second of his playing time because he hasn't proven anything in the NBA yet. Hickson looks around at his teammates, realizes how bad they are, and concludes that he should be afforded a certain level of respect given his talent, relative to the rest of the group. Eventually, the sides will meet in the middle: Scott will have made his point about effort level, and Hickson will return to the starting lineup, ideally playing with an extra edge. The idea that Hickson was truly "untouchable" in trade talks is a misnomer. Sure, as a promising young big man on a rookie deal, Hickson was a top priority from a roster construction standpoint. But a team as desperate as the Cavaliers with an owner as desperate as Dan Gilbert would trade any and everybody if it made the team relevant, which it isn't right now. While Hickson needs to work through his issues with Scott, he remains the best asset on the Cavs roster. Cleveland would be foolish to move him, unless it was as part of a larger package for a marquee name.