Carmelo Anthony discussed the possibility of signing a contract extension in New York on Sunday. Posted by Ben Golliver.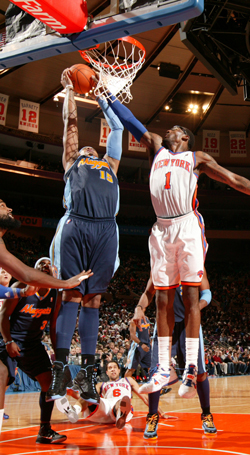 The Denver
Nuggets
and all star forward Carmelo Anthony made their one and only trip to New York's Madison Square Garden to face the
Knicks
on Sunday. After the Knicks pulled out a 129-125 win in a shootout, Anthony addressed rumors with the local media that he wants to be traded to New York. While he didn't say much, Anthony did sound like a man who understands that he is in the driver's seat regarding his future.
NBA.com has transcribed
a few of his statements.
His most interesting response came when asked how important a contract extension is. "Whatever decision that I make, that's going to be the first thing that gets done." And when asked what would happen if he was traded to a team that he didn't want to play for, he answered, "I don't think that would happen."
How to read these tea leaves?
First, Anthony's statement that an extension comes first underscores his earlier statement to CBSSports.com's Ken Berger that he is considering signing an extension with the Nuggets. It also suggests that a resolution to Anthony's long-term future will come before the trade deadline in February, as it appears Anthony is leaning towards signing an extension rather than testing free agency this summer, with the uncertainty of a lockout looming. This is the smart financial play for Anthony, of course.
The next question becomes whether Anthony's extension will come in Denver or as part of an extend-and-trade deal to a team like the Knicks. Anthony's statement that he "doesn't think" the Nuggets will trade him to a team he doesn't want to play for suggests that the Nuggets are aware of Anthony's preferred destinations and that relations between the two sides are amicable. It also reads like a show of power, that Anthony believes any trade involving him is contingent on his agreeing to an extension, going so far as to call the situation his "decision," a word we've certainly heard before from high-profile NBA free agents.
If I'm a rival GM, I read these statements as an invitation to make Denver an offer. Anthony has let the league know that he wants financial security and that he isn't necessarily locked into Denver. It's not quite the same as inviting teams to Cleveland to make boardroom style pitches, but it serves the same purpose. Make the Nuggets a trade offer that I can't refuse, Anthony seems to have said.