Los Angeles Clippers owner Donald Sterling is reportedly heckling his own players, including point guard Baron Davis. Posted by Ben Golliver.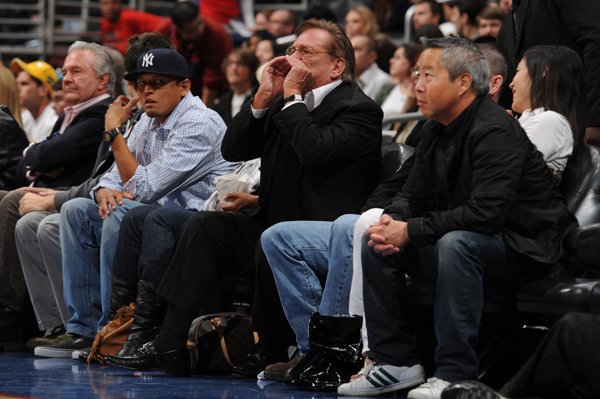 Los Angeles Clippers owner Donald Sterling rarely wins in the court of public appeal, and today comes word of another guaranteed embarrassing loss for the NBA's most reviled owner. Sterling's sins run a mile long: allegations of racism in his private businesses, contract disputes with former coaches and executives, harsh treatment of players, erratic behavior ... the list is longer than
DeAndre Jordan
. Given that history, we can't call
this Yahoo! Sports report
a new low for Sterling, he's sunk further previously, but it's still really bad. Sterling is reportedly heckling his own players, zeroing in on point guard Baron Davis, whom Sterling evidently believes is "out of shape" and not living up to his hefty contract.
Sterling "started getting a lot more vocal during the second half of last season," one team source said. "He never had done that before at games. Baron's his pet project. He absolutely hates Baron. He wants to get his money back."
Davis, of course, is at a loss for words and tries to tread carefully. After all, Sterling is his boss.
"There's nothing I can say," Davis said of Sterling's taunts. "I have no comment on that. You just get to this point where it's a fight every day. It's a fight. You're fighting unnecessary battles. I'm fighting unnecessary battles.
"It's frustrating because I know and my teammates know I'm capable of getting it done, even dudes on the other team. It's frustrating."
There are a lot of privileges that go with NBA ownership: courtside seats, locker room visits, etc. But the best NBA owners are involved without overstepping, acting as a stabilizing force and letting trusted basketball people make trusted basketball decisions. Sterling isn't just overstepping here, he's stomping on all that is sacred about the sport. He's killing his players' confidence, he's undermining his coach's authority, he's making life more difficult for his front office if they are trying to move Davis, and he is, once again, giving his entire organization and all of its employees a bad name. The NBA should probably intervene, as Sterling's reported behavior makes the entire league look bad. If players are held to the strictest of standards on the court -- they can now be given a technical foul for gesturing in anger at a bad call -- it looks exceedingly hypocritical if other team employees, especially an owner, are not required to comport themselves with a basic level of decency and to treat colleagues with a basic degree of respect in public. Here's hoping a little light on the situation scares Sterling into silence. We can agree that's not likely to happen.