Posted by Matt Moore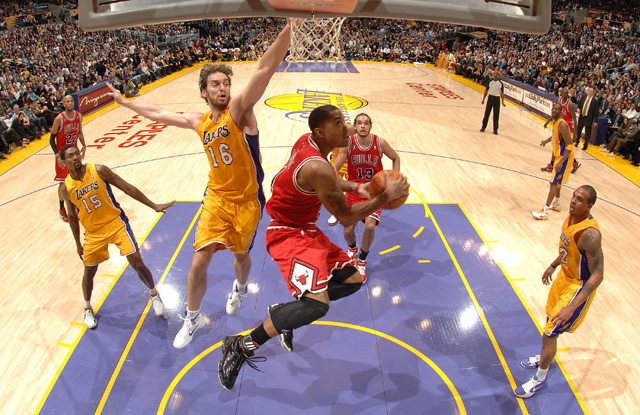 It began with this, from John Hollinger at ESPN:
Derrick Rose doesn't draw fouls. That's about all the negativity I can muster toward him in an impressive first quarter of the season, yet it remains an important distinction in evaluating his place among the league's elite.
via
Chicago
Bulls
' Derrick Rose not yet an elite point guard - ESPN.
Then Bulls blog Bulls By The Horns chimed in:
No matter what some people say — that Rose doesn't draw contact on his many drives to the basket — Derrick gets hit. Often. It's just that, unlike most NBA players, he doesn't flail or flop or scream when it happens. That fact, more so than his ability to absorb the blows and finish anyway, is what has prevented him from making more trips to the line.
via
Game 23 Recap: Bulls 92,
Pacers
73 » By The Horns.
Finally, Zach Lowe of SI delved deeper:
But if Rose's usage rate and free-throw numbers stay at their current rates, he'd become only the sixth player in three decades (since the introduction of the three-point line) to post a usage rate greater than 30 percent while attempting fewer than five foul shots per 36 minutes, according to Basketball-Reference.* The others: Ben Gordon, Chris Webber, Vince Carter, Baron Davis and journeyman Freeman Williams, who did it while playing for the Clippers in 1979-80.
via
The Point Forward » Posts Why does Rose rarely get to free-throw line? «
.
The debate revolves around whether Rose is bad at drawing freebies because he's not getting the calls for some reason, or whether he has issues with contact. Hollinger doesn't believe that Rose, a star the league is very much marketing towards in a major market, isn't lacking for the benefit of the doubt with the officials. Bulls by the Horns' Matt McHale on the other hand thinks that Rose's stoic handling of contact doesn't afford him the same results do to his lack of theatrics. So what's the answer?
Watching Rose from an outside perspective, I've always been struck by his ability to avoid getting ensnared in collapsing interior defense. He weaves through contact and that's what allows him to create amazing shots off the high glass. But he does lean away from contact. He doesn't lean away from contact the way Vince Carter
shies
away from contact, he simply anticipates the hit and works to create space for his shot. That's an incredible skill. It also doesn't get him to the line.
Following up on the data Lowe presented, Synergy Sports pegs Rose as the 40th best player with at least 50 possession in the pick and roll at drawing fouls. In isolation, he's 42nd among players with 50 possessions at drawing a shooting foul, and 27th in getting any free throws period. That's worse than
Brandon Roy
, who has no meniscus. He's also posting a 30+ usage rate, fifth best in the league. This isn't to say that he's not making the most of his usage, he is. He's brilliant. That three pointer which has so often flagged off and held him in check? It's falling, and in key situations. His jumper's still a work in progress but it's forgivable when you examine his ability to get to the rim. Quite simply, he's an elite player in every category except drawing fouls. And that category is one in which he is so bad it does impact his status. I won't go so far as to say he's not elite. He is. But he needs to learn to get those fouls, and that may mean absorbing more contact.
Then again,
Dwyane Wade
absorbs a ton of contact and has his entire career. He's also missed hundreds of games due to injury.
Maybe if we consider that something has to suffer for a player to be great, drawing contact is an acceptable limitation.