National Basketball Players Association executive director Billy Hunter discusses the possibility of the players union decertifying. Posted by Ben Golliver.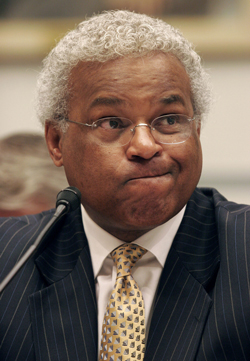 On Monday,
we noted a report
that players on multiple NBA teams had voted to authorize decertification of the National Basketball Players Association. Decertification is a step that can be used by a union to complicate labor negotiations and potentially avoid a lockout. However, Billy Hunter, the executive director of the NBPA,
told the New York Times
on Tuesday that decertification wasn't necessarily on the players' agenda.
"Decertification is just one of the options that the union would have in the event of a protracted lockout, that's all," Hunter said. "When you look at what your options are, you've got to look at everything. It's just one of the things we may have to contemplate, but it's pretty far off. It's nothing immediate. If you anticipate that there is going to be a lockout, then it's appropriate as far as timing, to discuss it now so that the players understand it so they begin to incorporate that with their thinking, as well as everything else."
Many observers have called the decertification talk another bit of posturing, and I tend to agree. But if commissioner David Stern and the league are going to put proposals like contraction of franchises, salary rollbacks and a hard cap on the table, you can't blame the players for meeting fire with fire. The New York Times also noted that decertification votes will continue this week. Once those votes are in, we'll be better able to determine whether the decertification talk has real legs.