Los Angeles Clippers center Chris Kaman confirms that the team's owner Donald Sterling shouts at his players during games. Posted by Ben Golliver.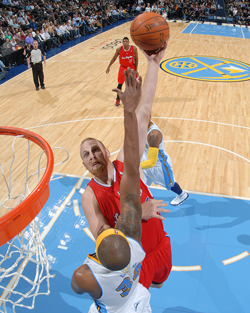 On Monday,
we noted an explosive report
that accused Los Angeles Clippers owner Donald Sterling of heckling his own players, and point guard
Baron Davis
in particular, during games from his courtside seats. Tuesday,
the Los Angeles Times reported
that Clippers center Chris Kaman confirmed that Sterling does shout at the players during games. Unlike Davis, who was painted as frustrated by the verbal harassment, Kaman sounds resigned to it.
"All kinds of stuff," Kaman said. "Some stuff like, 'Oh, dunk the ball.' He owns the team. What do you want me to say? He's my boss. He signs the check. He owns me.
"Not really, but you know what I'm saying. My rights to my basketball skills for five years."
While last season was Davis's first as a Clipper, Kaman has been a Clipper for his entire NBA career, eight seasons, and he was the team's first round draft pick in 2003. In that time period, the Clippers have had just one winning season, and they have won less than 30 games the last three years running. After all that losing, it's not a huge surprise that negative words, even from an owner, would eventually fall on deaf ears.
"He's an interesting guy," Kaman sad. "He likes to watch us play. He's very into it. Very into the decisions from what I understand. He's frustrated like anybody.
". . . The only thing I can say is that if it is negative at all, it's out of frustration. We're not trying to lose games. We're not trying to play bad. It's part of life. It's part of basketball."
Player A complains the the owner is heckling him. Player B says, essentially, "get used to it because that's who he is." Only the Los Angeles Clippers. While Davis's complaint makes his boss look terrible, Kaman's relative indifference may, ironically, make Sterling look even worse.