The New Jersey Nets, Los Angeles Lakers and Houston Rockets are discussing a three-team trade involving Terrence Williams, Sasha Vujacic and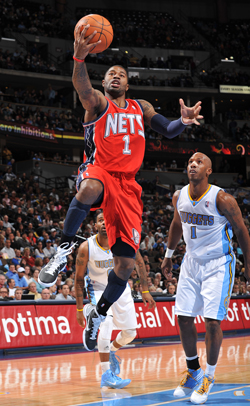 Joe Smith. Posted by Ben Golliver.
Multiple outlets, including
Yahoo! Sports
and
CBSSports.com's Ken Berger
, are reporting that the New Jersey Nets, Los Angeles Lakers and Houston Rockets have a three-team trade in place. Berger writes...
The Nets have begun putting into motion a plan to acquire several assets that the Nuggets have asked for in a potential blockbuster trade for Carmelo Anthony, two people familiar with the situation told CBSSports.com.
The first step, agreed to in principle Tuesday, is a three-team trade in which the Nets get a first-round pick from the Rockets and another one from the Lakers. New Jersey sends Terrence Williams to the Rockets and Joe Smith to the Lakers, who send Sasha Vujacic to the Nets, the people familiar with the framework of the deal said.
Berger also notes that the trade cannot be completed until tomorrow, once the NBA's Dec. 15 deadline for players that were signed in the offseason to be traded has passed. Williams, a physical second-year wing out of Louisville who is averaging 6.7 points, 3.6 rebounds and 3.1 assists in 20.6 minutes per game this season,
ran afoul
of the Nets and coach Avery Johnson in late November, when he repeatedly showed up late for practices and was demoted to the D-League. He will join former teammate
Courtney Lee
in Houston, who was traded to the Rockets in a four-team trade last summer. Given Williams's talent level and need for a change of scenery, the move is a reasonable risk for the Rockets, who have struggled through a 9-14 start and are currently in last place in the Southwest Division. To make room for Williams,
ESPN.com reports
that the Rockets will dump little-used reserve guard Jermaine Taylor, who has long been rumored as a candidate for trade, to the Sacramento
Kings
for a future second-round pick. Smith, a veteran big man, has barely touched the floor for New Jersey this season and is essentially a non-factor. Vujacic has also been buried on Los Angeles's bench this season, after the team's offseason acquisitions of
Matt Barnes
and
Steve Blake
, and the continued emergence of
Shannon Brown
, pushed him down and out of the team's depth chart. The move is a great one for Los Angeles, as they move the $5.4 million owed to Vujacic off their books. Taking back the $1.3 million owed to Smith, the Lakers net $4.1 million in cap savings and the only cost is a first round draft pick, which will likely be no higher than No. 25. As the Lakers are well over the luxury tax line, those savings are doubled, making for a total savings of ~$8 million, making this deal even sweeter. Sure, the Lakers aren't exactly a small market team aching for savings, but any time you can turn a bottom of the first round pick into ~$8 million worth of savings, you do it and you don't think twice. From New Jersey's side, it's the picks, not the players, who are the obvious key to this deal, as they afford the Nets important additional assets to use in trade talks prior to this year's deadline. Their major target, of course, could be Denver Nuggets all star forward Carmelo Anthony. The Nuggets, as we've written numerous times, need to receive salary cap flexibility and future assets when they move Anthony, and first round picks certainly qualify. So does Vujacic's expiring contract, which could be re-packaged to allow the Nets to take back salary in a deal. At first glance, this trade is a winner for all parties. The Rockets take a reasonable risk on a talented player, the Lakers receive some much-needed financial relief and the Nets accumulate trade assets. The final chapter to this trade analysis book can't be written until we see what deals are in New Jersey's future.