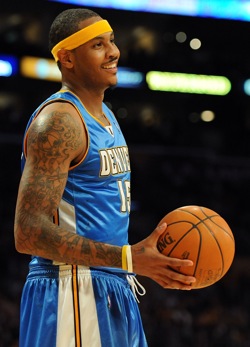 Posted by Royce Young
Ken Berger of CBSSports.com
along with multiple outlets are reporting that the Los Angeles
Lakers
, Houston
Rockets
and New Jersey
Nets
have agreed in principle to a trade that would send
Sasha Vujacic
to the Nets,
Joe Smith
to the Lakers and
Terrence Williams
to the Rockets.
The deal can't be finalized until Wednesday because Smith is a player that can't be traded until Dec. 15.
But the three players players moving isn't the most interesting aspect of this trade. Sure, Terrence Williams heading to Houston is somewhat intriguing because he's a player in desperate need of a new situation, but really, it's all the throw-ins that makes this interesting.
The Nets are also adding No. 1 picks from Houston and Los Angeles as well as Vujacic's $5.5 million expiring contract. Can you say "positioning for Carmelo?" (The pick from L.A. is for 2011 and from Houston 2012, to be clear.)
All signs have been pointing towards
Carmelo Anthony
heading to New York, but obviously the Nets aren't buying that. This deal is clearly a move in the direction of sweetening the post for the
Nuggets
. Not only does New Jersey have the talent to deal in
Derrick Favors
, but now they've got another expiring, plus two (not one) first-rounders to dangle in front of Denver.

Berger has some great thoughts on how the Nets are setting up for a run at Anthony,
but also mentions this:
According to a person with direct knowledge of Anthony's strategy, he recently became entrenched in his desire to agree to an extend-and-trade only if the deal sent him to the Knicks. The person who provided this information could not have been more unequivocal -- and could not have been closer to Anthony's inner circle.

Contrary to another report, however, Anthony at no point informed the Nuggets of his stance. The Nets, who according to sources have received repeated assurances from Anthony's camp that he would extend his contract in a trade to New Jersey, continued with their aggressive strategy to sweeten the assets they could offer the Nuggets.

So that could be important to know. Anthony wants New York. The Nets want Anthony. Either New Jersey isn't willing to take no for an answer or they just don't get it.
Also, remember how the Knicks thought they had a first-round pick ready for them when they needed it from Houston? Well it looks like the Nets may have slid in and taken it away. Talk about a pretty good power play for Nets general manager Billy King. Undercut the Knicks while just giving up a player that was sent down to the D-League a couple weeks ago? Not too bad at all really.
If this trade goes final Wednesday, the Nets will have
five
first-round picks over the next two drafts. That makes them a player in any deal, not just one for Carmelo.
The Nuggets have been pretty adament about looking for the best possible deal if they're going to trade their star. Well, the Nets now have the ability to really sweeten the pot. Their main competitor in the Knicks, don't have near the pieces right now. They may have the fact that Carmelo evidently wants to play there, but the Nuggets want the best trade and right now, New Jersey has it by far.