Posted by Royce Young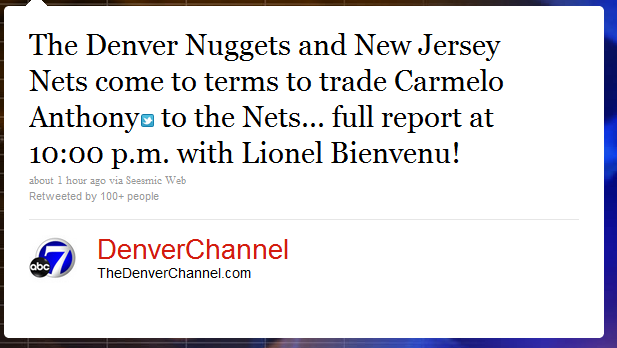 For about 45 minutes, we were all holding on to the edge of our seats.
According to a Denver television station,
Carmelo Anthony
had been traded to New Jersey. We just had to wait until 10 p.m. (mountain time) for reporter Lionel Bienvenu to give us the details.
How did we get there? The ABC affiliate Channel 7 crytically tweeted that the Denver
Nuggets
and New Jersey
Nets
came to a deal that would send Carmelo to Nets, with more details to come on their broadcast. This obviously coming just hours after
Ken Berger of CBSSports.com reported
that the Nets just acquired two first-round picks to potentially make a run at Anthony.
Everything was kind of adding up.
The details are this, again according to Channel 7 in Denver: The framework for a Carmelo to New Jersey deal is done. The Nets will send
Troy Murphy
,
Derrick Favors
and multiple first-round draft picks to the Nuggets for Carmelo. The deal however, is contingent on Carmelo agreeing to sign a long-term extension with New Jersey. If he doesn't, it's all off.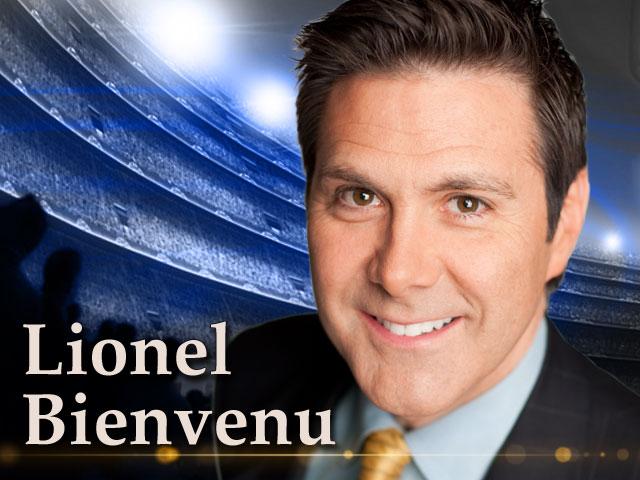 While that certainly sounds believable and is a likely conversation Nets general manager Billy King and Nuggets GM Masai Ujiri have privately had, by all accounts, it's not true. I know. Bummer city.
Numerous NBA writers immediately discounted the rumor.
Adrian Wojnarowski.
Chris Tomasson.
J.A. Adande.
Down the line you go, well-connected NBA folks heard from their sources that there was absolutely no truth to it. Even Carmelo chimed in after the Nuggets 111-94 win over the
Magic
. He said, "It's terrible. There's no truth to it."
But there we had
@DenverChannel
telling us it was true. Could Lionel Bienvenu have scooped all the plugged in people that have been tracking Carmelo's every move?
It doesn't look like it. After the broadcast, he was asked on Twitter to clarify the extremely odd report for those of us that don't live in Denver and didn't see it. And possibly seeing his career lighting on fire as people around the Internet brought him cans of gasoline,
Bienvenu said,
"No, Melo was not traded. Deal is in works. Trade could happen." But whatever happened to what your station said? You know, the whole, "The Denver Nuggets and New Jersey Nets have come to terms to trade Carmelo Anthony to the Nets" thing?
I think really what probably happened here is whoever was running the station's Twitter account got a little excited about Lionel's report and embellished on it with "come to terms" stuff. Obviously the fact that the Nets are working on getting a deal done for Melo isn't news. Of course they are. What do you think they went out and got 37 new first-round picks for? This whole thing has always been about whether or not Carmelo would sign an extension elsewhere. Teams can put together all sorts of "deals" and "frameworks" but that doesn't mean Carmelo is getting traded. Ken Berger had a framework deal that was almost done over the summer, but it just didn't happen.
Still, Bienvenu maintains that a deal is in the works. Which it probably is. There are probably 50 NBA trades "in the works." Whoever the intern running your station's Twitter account though, made you look pretty bad. Another example of social media running amok I guess.
But despite all the temporary excitement, Carmelo Anthony is still a Denver Nugget and reportedly, there's no framework and no deal to New Jersey. Yet.