You may think that New York has little shot against the mighty Celtics Wednesday night. While Boston is the best team in the league, the evidence says they may have their hands full against the Knicks.
Posted by Matt Moore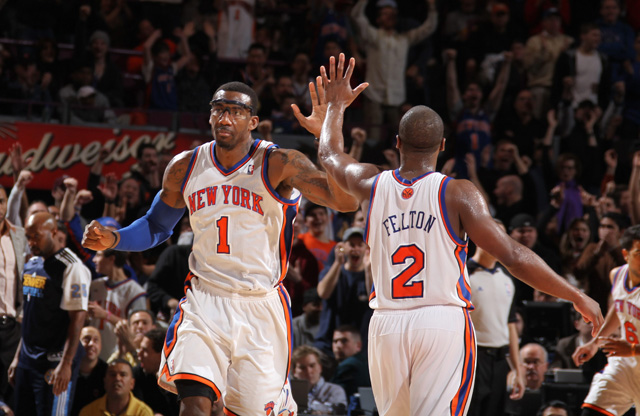 You know what Boston's point differential was last year? 3.6 points per game. They won on average by a margin of 3.6. The New York Knicks lost by average of 3.8 points last year. As the Celtics are very good and the Knicks were very not, you'd imagine that the Celtics would have blown them out, as they did the year before when their average margin of victory over the Knicks was over 12 points per game.
Except it wasn't. It was 3.75 points per game, including one three-point loss to the Knicks, and a two-point win in overtime. This against a much lesser team than the Amare-Stoudemire and
Raymond Felton
led squad they're visiting this evening.
Huh.
So while Boston
is very busy talking about how this is not a rivalry
and everyone's laughing off talks that the Knicks are in Boston's league as the two prepare to meet Wednesday night, it should be noted that perhaps this might be a game. Why? Because Boston doesn't like run-and-gun, that's why.
The Celtics lost twice to Amar'e's old club in Phoenix by
a combined
25 points
. They split with Golden State,
the fastest team in the league
according to pace (number of possessions per game),
winning by 14
, and then
losing by 10
. Boston also split with Denver (fifth in pace), Houston (sixth in pace), and Memphis (7th in pace). (They drubbed Indiana and Minnesota the second and third fastest teams, because, well, they were terrible.)
Even account for the late season swoon by the Celtics as they coasted to the playoffs, running teams have had success against Boston. The reason that becomes evident if you watched those games is that it's an overload of what Boston tries to hard to stop. Offense. There's no balance on these clubs. They simply get up and down the floor as quickly as humanly possible. Try and slow the game down to out-maneuver them and the Celtics will always be in place. The only way through is over. You have to stampede them with speed and shooting, perplex them with threes in transition and make those old legs work.
According to 82games.com
, The Celtics have played slow-pace teams ten times, and fast paced teams eight times. They're 9-1 against slow teams, and 6-2 against fast teams. Yeah, that's still an impressive win percentage, but notice that they do have more trouble (relatively speaking) against fast teams. New York
is third in pace this year
.
Throw in the fact that
Amar'e Stoudemire
is a tougher cover for
Kevin Garnett
than most and you've got possible problems for Boston. Stoudemire may not be a defensive stalwart, but on offense he's not soft. He's the Anti-Bosh. He's aggressive, strong, and forceful, throwing down jams and screaming with the best of them (and Garnett is the best of them). The Knicks will get pounded inside tonight by Boston's bigs, but making
Shaquille O'Neal
and
Glen Davis
romp up and down the floor will wear on them (Shaq's a game time decision right now).
Ray Allen
and Rondo will like the fast pace just fine, but
Paul Pierce
doesn't prefer it. And in the meantime, Mike D'Antoni can ratchet up the speed without concern tonight. There's no need to try and slow down, play good defense, and play good solid traditional basketball. That's how Boston kills you. No, instead, D'Antoni can let loose the dogs of Madison Square Garden and go Four Seconds or Less. The faster the Knicks go, the better chance they have.
Boston's been nearly unbeatable his season, so they're still the clear favorite in this game. But while conventional wisdom says that a team with as solid of a defense as Boston should dominate a trigger-happy team like the Knicks, the evidence shows otherwise. Sometimes you've got to run if you want to get over the mountain, apparently.
Boston meets New York in
Madison Square Garden
Wednesday night.