Posted by Matt Moore


UPDATE 10:41 p.m. EST:
A league spokesman for the NBA informs CBSSports.com that there was no "trigger" that occurred which would allow a review of Pierce's game winner, which meant that it stood as called. So that explains that. We'll have more on the trigger rules later.
UPDATE 11:22 p.m. EST:
For what it's worth, a
New York
(yes, I hear you
Celtics
fans) media producer says he timed
Amar'e Stoudemire
's shot and
it came out to .68 seconds
. He claims that Pierce's shot
was through at .7 as well.
It may not be a rivalry yet, but it's well on its way.
Paul Pierce
nailed the game winner over the outstretched arms of Amar'e Stoudemire with .4 seconds left to give the Celtics their run-of-the-mill tough, relentless win 118-116. It was Paul Pierce, coming off a
Ray Allen
screen, forcing the
Knicks
to switch, getting Pierce with space on the right elbow, his sweet spot, against Amar'e Stoudemire (who was a beast from the first quarter on). Pierce pushed a little deeper than his favorite spot at the elbow, to the right wing, rose, fired, and...
Kaboom. Knicks lose. A heartbreaker, but that's what the Celtics do. With only .4 left on the clock, the Knicks got the ball to Amar'e Stoudemire for a prayer three. It was, amazingly, good, but after the buzzer.
Except...
Go back to the Pierce shot. When exactly did that ball go all the way through the net, as the NBA rulebook says it must for it to count?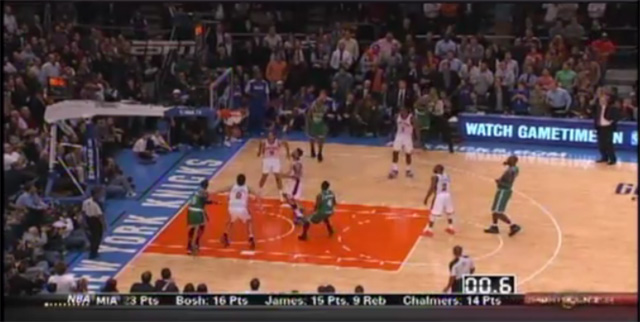 That would be .6. At least. You might be able to make the argument that it landed at .8.
And if you're interested in the clock on the shot clock? Courtesy of
@TheYankeeU
on Twitter.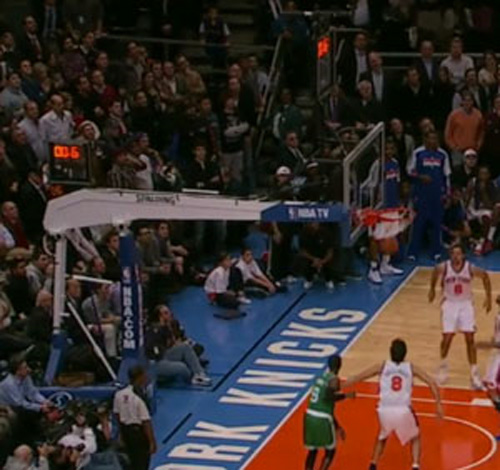 Couple things:
It is well within Boston fans' right to contest that Amar'e still wouldn't have gotten the shot off in time. Trying to match up the times would be nearly impossible, but it was firmly cradled in his hand when the buzzer sounded. Would another.2 to .4 matter?
It's also easy to make the argument that Boston might have defended differently (less concern about the lob) with .6 or .8 versus .04. Everything changes with that time differential. There's something in here about chaos theory and parallel universes, but we don't want to go there.
The Knicks still very much had every chance to win this game and Boston took it from them.
It's also possible this was a production issue with the network carrying the game, but we're willing to give them the benefit of the doubt here.
But it is a pretty interesting development that at home, in a situation where review is pretty much required, it would certainly appear as if things were amiss in Madison Square Garden.
Great win for Boston, but this shows just how tough of a loss it was for New York.