NBA commissioner David Stern calls decertification of the National Basketball Players Association a "nuclear option." Posted by Ben Golliver.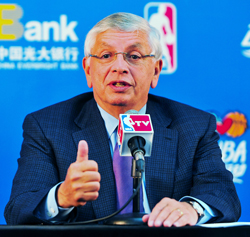 Every time there's been a round of posturing during the league's ongoing labor negotiations, you can count on one thing: NBA commissioner David Stern will kick his rhetoric up a notch. On Monday, we noted talk that the
players union was considering decertification
, a process which could help avoid a lockout but could lead to a maze of legal issues. On Tuesday, executive director of the National Basketball Players Association Billy Hunter said that such talk was
"pretty far off"
and that a league-wide voting process would need to be completed prior to any move in that direction. On Wednesday, the Associated Press reports, Stern
responded to the decertification talk
with his typical bluster, painting the process as a radical negotiating tool and warning that it could backfire on the players.
Speaking with reporters Wednesday before the Charlotte Bobcats-Memphis Grizzlies game, Stern said if the union decertifies it wouldn't just mean the end of the NBA players association, it would nullify the labor contract as well.
That would allow players to challenge antitrust laws, the commissioner said, an opportunity they don't have with the collective bargaining agreement in place. But, he said, decertification is risky because there are $4 billion in guaranteed player contracts in effect for next season. "It's a nuclear option," Stern said, "but I'm not sure whether it isn't the nuclear option that falls on the party that launches it."
Stern is right to be skeptical that the players will, when push comes to shove, sacrifice guaranteed money. No one, least of all newly-minted, young millionaires, will do that without thinking twice. But Stern surely realizes that the players are equally skeptical of the owners' current hard-line proposals, and are being put in a desperate spot where radical measures need to be considered. As we noted earlier this week, only time (and the voting process) will tell how serious the players are about decertification. At this point, it still seems like a last resort, a method for the players to indirectly assert their feelings regarding the owners hard-line proposals and to evoke a bit of fear about what a negotiation without compromises from the owners might devolve into. Even if the nuclear option backfires, after all, the fallout will affect everyone.