Dallas Mavericks owner Mark Cuban is reportedly wants to make a college football playoff system a reality. Posted by Ben Golliver.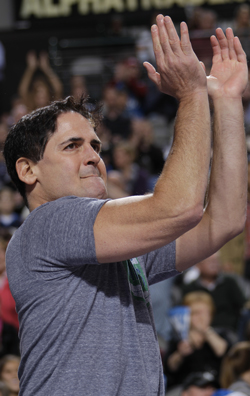 Dallas Mavericks owner Mark Cuban is a fixer. Unless you've been living buried in the ground like Saddam Hussein for the last 10 years or something, you've heard one of his wacky/irreverent/thoughtful theories about how to fix systems or products or services or the NBA. That's what he does, and he's a billionaire, so he gets a pass when his schemes get overly grandiose or self-serving. Progress is important, and fixers create progress. The latest problem that Cuban is preparing to tackle,
according to DallasNews.com
, is NCAA college football's Bowl Championship Series system. The BCS, as far as I can tell, is a meaninglessly complicated racket that works to ensure major conference schools face off in major bowl games for major dollars. It's annoying to approximately 97% of the world's population because it doesn't make any sense, it's not transparent, it doesn't exactly scream fair and it often appears both inconsistent and biased from year to year.
Mark Cuban is just like everybody else in the world - he doesn't like the fact that college football doesn't have a playoff system. The difference, with bowl season starting on Saturday, is that Cuban is influential enough and has enough connections that he can float his ideas on a grander stage than most folks.
Before Wednesday's game, he talked openly about how he'd like to pitch a playoff system to select college presidents in BCS conferences. But he admits it's a long, long way from becoming reality. "I'm actively pursuing it, but it's in only in the exploratory stage,'' he said. Cuban has been reading the book "Death to the BCS'' and it has gotten him thinking about how a lucrative playoff system could change colleges, and perhaps even lower tuitions that have skyrocketed in recent years.
Say this for Cuban: he clearly isn't afraid to swim into the deep water, to set his sights on unimaginably difficult problems. Will anything come of Cuban's effort? Probably not. Many have tried to kick some sense into the BCS, to no avail. But Cuban scores points here for his understanding of the everyman's dilemma.