The executive director of the BCS responds to Dallas Mavericks owner Mark Cuban's plan for a college football playoff. Posted by Ben Golliver.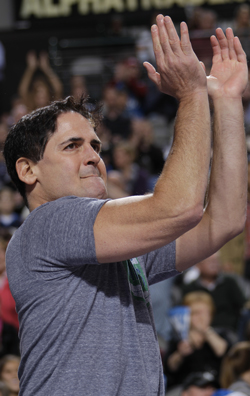 Wednesday night, we noted that Dallas Mavericks owner Mark Cuban is
hatching a plan
to set up a college football playoff system that will supersede the Bowl Championship Series, which boile down to throwing a ton of money at the schools to entice them to participate in a bracket-style playoff. On Thursday, the
Associated Press reports
that Bill Hancock, the executive director of the BCS, offered a typical, predictable pooh-pooh response.
Hancock responded to Cuban's comments in an e-mail to the AP on Thursday, saying, "Given how much support our current system has among university presidents, athletics directors, coaches and athletes, I don't think any amount of financial inducement will make people abandon" the BCS.
"College football is so popular today," he said, "because we have a great regular season and because we have an important bowl tradition that provides a meaningful experience for the students and fans — all of which would be at risk if this concept were implemented."
The commissioner of the Pac-10 conference, Larry Scott, argued that Cuban was taking the wrong approach by simply dangling dollars.
"The fact is that college football has never been more popular in its current format, and it's a mistake to assume the impediment to a playoff is money. We could get a lot more money tomorrow from lots of folks by moving to an expansive playoff; this is about a broader set of priorities benefiting schools and student-athletes."
Telling an eccentric billionaire that his money can't change a situation is a risky proposition. Surely, that will only infuriate Cuban more, and cause him to re-double his efforts. Hopefully this ends with an HDNet reality show starring Cuban's nationwide college tour, where he meets with university presidents by day, strong arms college football coaches over happy hour cocktails, and then takes body shots with young coeds until six in the morning, all in the name of a more equitable football postseason.