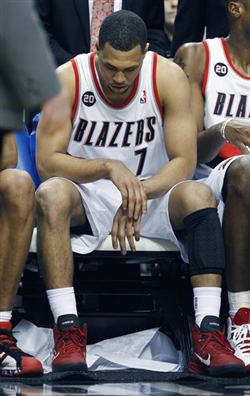 Posted by Royce Young
The Portland
Trail Blazers
announced
Brandon Roy
will miss the next three games with a sore left knee and will be re-evaluated next week.
In other words, crap.
It might not be much, but obviously the pain and discomfort in Roy's knee is getting to him. He clearly hasn't been himself this season and has grown more and more frustrated by not only his situation, but the team's.
The hope here is that the rest is just something much needed for Roy and that nothing will come of it that we don't already know. But for whatever reason, any time a player in Portland goes in for a re-evaluation or an MRI or something, we all fear the worst. And for good reason.
The Blazers signing of
Wesley Matthews
has turned out to be one of the more brilliant moves of the offseason, mainly because of Roy's situation. It's likely Portland saw this situation coming and that's why they overpaid in most people's minds when they signed Matthews. But having him as a kind of insurance policy has been huge for Portland.
Roy's re-evaluation could be a big moment for the Blazers. There has been talk about Portland blowing the wheels off the car and starting over. Potentially, depending on what they see with Roy, next week's evaluation could go a long way in deciding that.
At the same time, maybe the Blazers will feel that Roy's situation isn't as bad as originally thought. At least that's what we can all hope for.