The Phoenix Suns and Orlando Magic continue to talk trade, and the moves may include Hedo Turkoglu, Jason Richardson, Vince Carter and Marcin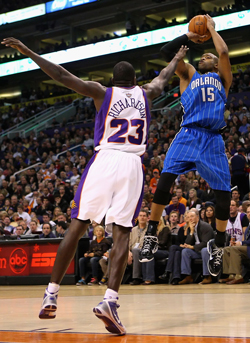 Gortat. The Wizards and Magic also continue to talk. Posted by Ben Golliver.
Earlier, we noted
Ken Berger's CBSSports.com's report that the Phoenix Suns were engaging in ongoing talks between the Washington Wizards and the Orlando Magic, and that the talks likely included trading wing Hedo Turkoglu, one of the most overpaid players in the NBA. We noted that the nature of Phoenix's participation wasn't entirely clear Saturday morning but that they are motivated sellers after a slow start and a log jam on the wings. ESPN.com
reports on Twitter
that the Suns and the Magic are "closing in on a deal" that would send send Hedo Turkoglu and Jason Richardson to Orlando for Vince Carter and
Marcin Gortat
. The report adds that there is a "90% chance" of the trade happening "within 24 hours." As a standalone trade for the Magic, this isn't bad at all. Richardson is still a very productive player, a dynamic offensive force who can knock down the open shot, can create off the dribble and is a good rebounder for his position. He averaged 15.7 points, 5.1 rebounds and 1.8 assists last season and was a major key in Phoenix's deep playoff run last year. His scoring numbers are up to 19.3 points this year because
Amar'e Stoudemire
left town, but he's better as a second or third option, which is what he would be in Orlando. He's also in the final year of his contract, so he's not a financial anchor if things don't work out. Turkoglu's contract, which is fully guaranteed through 2012-2013, is the tax the Magic would pay for Richardson's production, but Orlando's team and coaching staff are familiar with his game, and Turkoglu's best years, by far, came in an Orlando uniform. The Magic would be relinquishing two solid trade chips: the expiring contract of Vince Carter and trusty backup big man Marcin Gortat. Carter has proven he won't be able to help Orlando get over the hump and Howard is an extremely durable big man, rendering Gortat, a physical and skilled big man, more valuable on paper than he is on the court for Orlando, where he plays just 15.8 minutes per night this season. For Phoenix, this move will be a tough sell to the fanbase. Richardson's playoff heroics aren't soon forgotten and his departure would likely be a bitter pill to swallow. However, there are others on Phoenix's roster who can pick up the scoring slack. The issue for Phoenix this season (and in years past) has been defense and rebounding. The Suns are currently
dead last in defensive efficiency
and second to last in rebound rate. Gortat pencils in as their starting center and would make an immediate impact. He's also on a reasonable contract that extends through 2013-2014, so the Suns would be receiving a fair bit of frontline certainty here as well. Carter is of a lesser concern for the Suns. He could provide some highlights and make up for some of the scoring that leaves with Richardson's departure, but he's in the last fully guaranteed year of his contract and may or may not have a long-term future in Phoenix.
ESPN.com also confirms reports
that this trade could also happen in conjunction with another deal that could send forward
Rashard Lewis
to the Washington Wizards for
Gilbert Arenas
and an unnamed big man. If that trade were to happen, minutes would be open for Turkoglu at both forward positions and Arenas would presumably be used in a reserve role behind starting point guard
Jameer Nelson
and Richardson.
Orlando Pinstriped Post notes
that other pieces involved in the Suns / Magic trade could include Magic wing
Mickael Pietrus
and little-used Suns forward
Earl Clark
. The site also reports that Magic wing
Quentin Richardson
could also be traded
, which happens frequently.