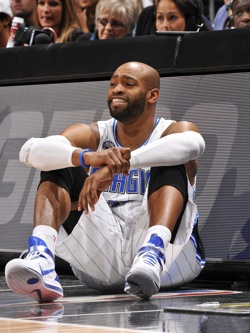 The Orlando Magic and Phoenix Suns have reportedly agreed on a trade that includes Vince Carter, Marcin Gortat, Mickael Pietrus, Jason Richardson, Hedo Turkoglu, Earl Clark, a draft pick and cash. Posted by Ben Golliver.
Earlier today,
we noted a report from CBSSports.com's Ken Berger
that outlined the developing possibility of a trade between the Orlando Magic and the Phoenix Suns.
Yahoo! Sports
and
ESPN.com
are both reporting on Saturday that a deal has been consummated between the two teams. The Orlando Magic will reportedly send guard Vince Carter, center Marcin Gortat, wing Mickael Pietrus a first round pick and $3 million (the maximum amount allowed in a trade) to the Phoenix Suns for Jason Richardson, Hedo Turkoglu and Earl Clark. For the Magic, they get a proven playoff scoring threat in Jason Richardson and a versatile forward with whom they are familiar in Turkoglu. They also get a heavy burden with Turkoglu's contract and sacrifice depth in the middle with the departure of Gortat. The Suns immediately address their needs for defense and rebounding with the acquisition of Gortat and shed the remaining years of salary owed to Turkoglu. They also roll the dice on Carter, who is in the final year of his guaranteed contract. Berger
confirms
the Suns/Magic trade reports and additionally reports that a trade between the Orlando Magic and Washington
Wizards
sending Wizards guard
Gilbert Arenas
to the Magic for forward
Rashard Lewis
is a "done deal."
CBSSports source confirms: Magic get Turkoglu, JRich, Earl Clark from Suns, Arenas from Wizards. "Done deal," CBSSports source says. Wizards get Rashard Lewis, while Suns get Carter, Gortat, Pietrus.
Here's a link to
Berger's full trade report
. The move of Lewis for Arenas is a swap of horrible contracts, but it makes some sense for Orlando as it was going to be difficult to find minutes for Lewis, Turkoglu and the team's two other power forwards,
Ryan Anderson
and
Brandon Bass
. The Magic add two scoring threats on the perimeter in Arenas and Richardson, but the trades leave them extremely vulnerable in the middle should anything happen to
Dwight Howard
. For a full breakdown of the Suns/Magic trade,
click here
.