Posted by Royce Young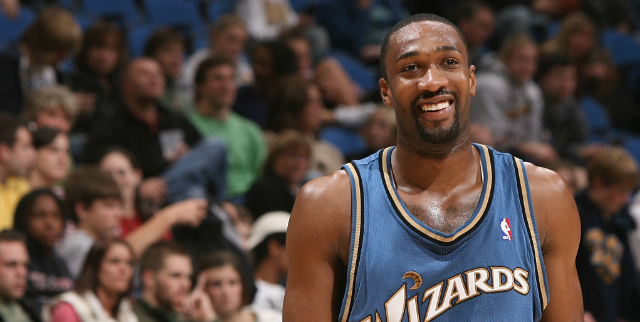 Most people kind of forget that
Gilbert Arenas
actually began his career with the Golden State
Warriors
in 2001 and spent two seasons there.
But that's because over the past eight years, he's been completely synonymous with the Washington
Wizards
. He was their star, their big money player, their draw and their man. He was all of that for seven-plus seasons,
but with reports having him headed to Orlando,
the torch has been passed to
John Wall
.
The relationship between Wizard fans and Arenas for those seven years was a bit of up-and-down, with a lot of down last season. People aren't necessarily going to remember him for the 30-foot bombs or the 2005-06 season when he averaged nearly 30 points a game and led the Wizards to the postseason. They're going to remember him for what happened on Dec. 24, 2009. They're going to remember the locker room incident with Javaris Crittendon. They're going to remember his massively massive contract that burdened the team over the past couple seasons. They're going to remember him for a lot of "What if" type of reasons, and not necessarily for the good stuff. A shame, but the way things go.
Arenas knew his time was almost up in Washington, telling reporters recently that he wasn't comfortable with all this rebuilding stuff. He said he "felt like the odd man out" most of the time. And that's because he was. He's not a rebuild kind of player. Not at this point in his career. He's a gifted veteran scorer that needs to be on a good team helping them win. He doesn't have a lot of time to mess around anymore.
He's not a guy that's used to coming off the bench like he has been this season. He's not a player that's used to not being the focal point of an offense. He's not used to laying back while someone else has the ball in crunch time. He's really not completely used to being on a bad team either.
There were nights though, where Arenas would come around and show what he's still capable of. Like the 31 points he dropped on Orlando, oddly enough, three weeks ago. Or the 30 against the
Bulls
in early November. Arenas is still averaging over 17 points per game, despite the fact he's trying to figure out how he fits in.
Now though, he gets a fresh start. He just to start things over in Washington this season after the gun incident. He said he was going to be more serious, was going to drop his "Agent Zero" persona and even went so far as to switch his number to nine. He wanted to be a new man. He tried to say all the right things. He deferred to Wall. He did his best to be the leading veteran teammate.
But that's not Gil. That's not what he does. He's a star and he's still got something left. And that's why he felt like he just didn't fit right.
So with this move to the
Magic
, he has the chance to begin again. And maybe the best thing he can do is to start back over with the old Arenas. Wear No. 0. Launch 3s from halfcourt. Take over games. Joke around. He's got quite the opportunity joining the Magic as
Dwight Howard
's wingman. He's going to get looks. They're going to count on him to score. He's going to get the free reign on the floor that he flourishes under.
That's the player Orlando hopes it's getting. No doubt Gilbert Arenas still has talent and a lot left in the tank. That didn't leave him. He's just got to find himself again. And nobody's banking more on that than Otis Smith and the Magic.