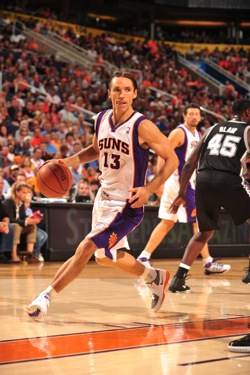 Posted by Royce Young
After the
Suns
completed a pretty substantial trade with the
Magic
Saturday in which a large portion of the roster was moved, immediately people started thinking about
Steve Nash
. Thinking about what this meant for him. Is he still on a contender? Is he happy about this? Is this good for him? And most importantly, does this mean he's going to be moved as well?
And while the Suns likely aren't finished flipping pieces as a player like
Josh Childress
could potentially be moved yet, it doesn't look like Nash should be packing any bags soon. Unless he wants to.
Via Yahoo! Sports,
the Suns remain "privately adament" that Nash isn't traded this season, unless he comes and asks for one.
Nash's agent, Bill Duffy, told
Yahoo! Sports
that Suns owner Robert Sarver has assured him "nothing is going on" in regards to a trade with Nash.
Sarver told ESPN.com,
"This deal has nothing to do with [trading] Nash. We have no intention to trade him."
That may be true right now, but obviously Nash has some say in this. At 36, he's probably not thrilled about the prospect of playing point guard on a rebuilding team. He is the draw for the Suns and any time you have Nash, you're not that far off from being good. But if he wants a change or isn't on board with the direction, it might not matter what Sarver says or thinks. Nash will almost surely get his way.
However, there's been no indication of that yet either. The trade has an appearance of cutting costs and leans toward rebuilding for Phoenix, but Vince Carter, Pietrus and Gortat are players that can still help you win.
Jason Richardson
was a big part of the squad that went to the Western Conference Finals, but maybe Carter has a career rejuvenation in Phoenix like so many other oft-injured vets (see: Hill, Grant).
Again, the Suns probably aren't done. A few other players might be shuffled. That doesn't necessarily mean it's full on rebuilding in Phoenix, but it also doesn't mean the Suns are setting up to contend. That issue will get figured out when Steve Nash makes his call on what he wants. And right now, there's no way to lean quite yet on that.