Former Chicago Bulls forward Dennis Rodman says that Michael Jordan, Scottie Pippen and himself could beat LeBron James, Dwyane Wade and LeBron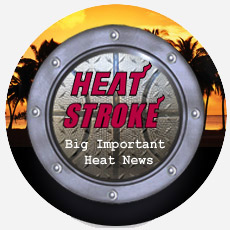 James in a game of 3-on-3. Posted by Ben Golliver.
In a wide-ranging interview with Miami radio station WQAM and
transcribed by Sports Radio Interviews
, former Chicago Bulls forward Dennis Rodman argues that he and former teammates Michael Jordan and Scottie Pippen could defeat the Miami
Heat
's big three of LeBron James, Dwyane Wade and
Chris Bosh
in a game of three-on-three. After first letting the radio audience know that Bill Laimbeer "wasn't a [male private part]" and suggesting that popular television talk show host Oprah Winfrey should retire, Rodman said that an imagined match between the Bulls' core and the Heat's current star-studded lineup would be "no contest. That's not even a question." Rodman's statement should come as no surprise: former NBA players almost uniformly believe they are more talented than their modern-day counterparts, and Rodman has the ultimate ace in hole because he won three NBA titles with the Bulls and the newly-constructed Heat have yet to win anything. With that said, it's difficult to argue that the Heat would be able to give the Bulls a real money in a three-on-three game. Jordan is clearly the best player out of the bunch, Pippen is the prototype for a LeBron-stopper given his strength, length and quickness, and Rodman would get so far inside Bosh's head the Heat forward might start openly weeping on the pavement. The Bulls would also be able to switch every pick on the perimeter, as Jordan, Pippen and Rodman are all talented, versatile defenders, while the Heat wouldn't have that luxury, as Bosh would have no chance against Pippen, much less Jordan. When you stop to think about it, it's comical that Bosh is even included in these hypothetical conversations concerning NBA Hall of Famers. The only threesome that could give the Bulls a run for their money would be one with a talented, humongous center in the middle, someone like Shaquille O'Neal or Kareem Abdul-Jabbar, who could overpower or play above Rodman on the block. You're simply not beating that team on the perimeter, it's impossible. Taking this further, I'm not sure whether James, Wade and Bosh could defeat the Boston Celtic's trio of
Rajon Rondo
,
Paul Pierce
and
Kevin Garnett
or the Los Angeles
Lakers
' trio of
Kobe Bryant
,
Lamar Odom
and
Pau Gasol
. Boston would have a distinct playmaking and intensity advantage while Los Angeles could match Miami's perimeter versatility and boasts added low-post length and skill in Gasol. Finally, though, there's no shame in not being able to stay with Chicago's legendary group for the Miami Heat. They've got larger, real-life problems anyway, as they look to extend their 12-game winning streak on Monday night against the Dallas
Mavericks
. The Mavericks are one of the league's hottest teams, having won nine of their last 10 games.