After trading Marcin Gortat to the Phoenix Suns, the Orlando Magic are reportedly searching for a reserve big man to backup Dwight Howard. Posted by Ben Golliver.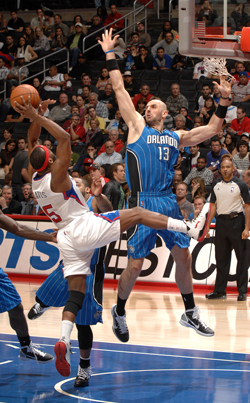 How quickly NBA teams turn from sellers into buyers. The Orlando Magic, owners of probably the best center depth in the NBA last week, now are stretched thin, incredibly exposed if MVP candidate and starting center Dwight Howard should go down to injury and forced to play small ball when he is on the bench. How did that happen?
Two big-time trades this weekend
that netted
Gilbert Arenas
,
Jason Richardson
and
Hedo Turkoglu
gave the Magic added offensive firepower and depth on the wings, but came with one large cost: the move of backup center Marcin Gortat to the Phoenix Suns. Magic executive Otis Smith sounds prepared to address his new-found vulnerability upfront and is reportedly on the prowl for Gortat's replacement already,
according to NBA Fanhouse
.
The Orlando Magic have asked about the availability of both New York's Ronny Turiaf and Philadelphia's Tony Battie, hoping to fill quickly their new void at backup center behind Dwight Howard.
The Magic, according to NBA sources, would like to use backup point guard Chris Duhon as trade bait, but they also would be willing to use small forward Quentin Richardson to get what they want.
Gortat is an agile, physical big man on a reasonable long-term contract and, as we noted on Saturday, he comes out as
one of the big winners
of the weekend's trade activity, given the large role he will surely take on in the desert now that he is no longer trapped in Dwight Howard's shadow. Replacing him will be no easy task, as Smith is surely well aware. NBA teams don't often trade big for small without attaching a heavy premium, even when it comes to reserve parts. Turiaf, almost assuredly, will cost Orlando more than they are willing to pay. While Duhon is solid, and capable of playing more minutes than are available in Orlando, it's unlikely that he or Richardson is going to spark a ton of league-wide interest on their own. Aside from dangling Duhon, Smith's options going forward are to settle for a less productive warm body or to consider offering up another trade chip, such as reserve guard
J.J. Redick
. Like Gortat, Redick is a valuable role-player with a defined NBA skill -- he can shoot the rock from deep -- and he is signed to a reasonable long-term deal, making roughly $6.6 million a year through 2012-2013. In Orlando, Redick is now fighting for minutes with Arenas, Jason Richardson and Quentin Richardson, so moving him wouldn't be a catastrophic loss. It would make for even more of a rotation overhaul than has already been enacted, but true Dwight Howard Injury Insurance is bound to carry a steep price. Patience wouldn't be the worst thing in the world for Smith, as some time to assess how his first round of moves work out could clarify which of the guards should be the true odd man out.