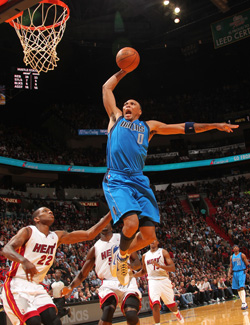 Mavericks' control glass despite eight-shot possession to tame Heat.
Posted by Matt Moore
The Miami Heat held a 16-10 advantage on the offensive glass in their loss to the Dallas Mavericks
98-96 Monday night
. The Mavericks secured two huge offensive rebounds down the stretch, both leading to clutch three-pointers from
Jason Terry
. The real gap between the Mavericks and Heat was rebounding. The Mavs' work on the glass was what won them a huge game against the Triad. How can that be with an advantage on the offensive glass?
Because seven of the Heat's 16 offensive rebounds came on one play. No kidding. From the AP via the
Dallas Morning News
:
The Miami Heat pulled off something not seen every day in the NBA: A possession with eight shots.

And yes, eight was enough.

It all started with 2:47 left in the first half against the Mavericks on Monday night, when Dirk Nowitzki missed a 3-pointer and Mike Miller got the defensive rebound for Miami.

Chris Bosh missed a jumper, Miller got the rebound to extend the possession ... and the Heat were just getting started.

Mario Chalmers missed a 3-pointer, Dwyane Wade misfired on a 3, Miller then couldn't connect on yet another try from beyond the arc, Wade missed a layup, Bosh missed another jumper, Miller came up short again on a 3 - before Chalmers, finally, connected on a 3 with 1:53 left.
via
How about boxing out? Heat pull off eight-shot possession against Mavericks |The Dallas Morning News
.
So in reality, outside of one bonkers play in the first half, the Mavericks did control the offensive glass 10-9, and held an overall advantage on the boards 48-37 versus 48-44. It speaks to a concern many have, about the ability of Miami to rebound in key situations. The truth is, Miami's been solid on the boards. They're currently eleventh in
offensive rebounding differential
and fifth in
total rebounding percentage
.
So what got it done for the Mavs, who are ranked 25th
in offensive rebound rate
and
18th in opponent offensive rebound rate allowed
?
Shawn Marion
.
Marion finished with only 7 points on 2-7 shooting, but had 13 rebounds, five offensive, with four in the fourth quarter. Marion's numbers are all down, except in per-minute figures and PER. Watching him, though, Marion alongside
Tyson Chandler
have given Dallas a tougher, physical face that can also work inside the offensively versatile system designed by Rick Carlisle. Marion is tied for the second best defensive rating among Mavericks rotation players. What's more, Synergy Sports has Marion allowing a 39% FG percentage which is pretty solid.
In short ... he's exactly the kind of player the Heat could use. Too bad they shipped him out for
Jermaine O'Neal
over a year ago.
The Mavericks meanwhile continue to find hybrid ways of winning games. And Monday night, it was Marion on the glass, with some JET fire from the outside.