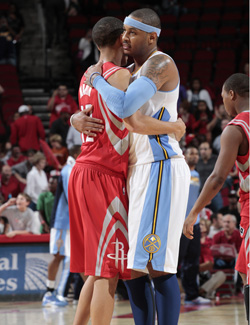 Carmelo Anthony seems dead set on New York, ignoring overtures from Houston and Dallas. We don't think that's quite so smart a plan.
Posted by Matt Moore
Carmelo Anthony has been weighing his options for months. This whole, convoluted process started because Melo started examining his options. But he's kept his preference limited to New York. He's been ambivalent about New Jersey, mostly because they're the only ones to make an offer to peak the
Nuggets
' interest. Otherwise, he's shown no real interest in headed to Newark, before Brooklyn. Dallas is
considering acquiring him regardless of his extension-status
. For whatever reason, Melo's not itching to head to Dallas, despite it being a huge market with considerable endorsement opportunities. But what's more perplexing?
Why won't Melo consider Houston?
For months, Houston's been in pursuit of a star, as General Manager Daryl Morey has more than once recognized publicly that you need such stars to win in the NBA. Melo's been on the list for as long as he's been on the market, but still, there's been no word of Melo's interest in Houston. And if it's true that Melo simply doesn't have any interest in the
Rockets
, that makes him a fool.
The Rockets certainly aren't a contender this year. They're improving with each game, but they're not a top team in their conference, and aren't locked in for the playoffs. Houston isn't the same kind of market as New York. There aren't the same kind of opportunities for endorsements or parties as there are in LA. But Houston does provide the right set of circumstances to get him out of Denver without losing too much, and most importantly, an organization committed to winning.
Daryl Morey has made significant moves every year he's been with the Rockets, and his success rate has been pretty high, considering the injuries to
Tracy McGrady
and
Yao Ming
. Outside of the overspending on
Trevor Ariza
, largely acquired due to a nice playoff run on a stacked team in LA, Morey's been on point. More important, though, is the organizational approach. Morey almost never shackles himself to long-term assets, seizes opportunities to improve his roster (as he did with
Ron Artest
), drafts well, and if something isn't working, will move to improve it. He supports his head coach Rick Adelman and works in conjunction with him, as opposed to autonomously.
The Rockets have the pieces to acquire Anthony without giving up the farm for him, as New Jersey is backed into a corner about. The
Nets
keep offering up more and more assets, and have been acquiring more to try and sweeten the deal. But what's left if they send all that? The only thing assured to be waiting on Melo in Jersey is
Brook Lopez
, who hasn't been having as good of a season as he normally does.
Meanwhile, the Rockets can package
Aaron Brooks
,
Kevin Martin
, any number of combinations of reasonable solid players to acquire Melo, and will still have either the expiring contract of Yao Ming to trade, or the money this summer once Yao comes off the books. Should they elect to move Martin, they may be able to pull in another A+ player depending on who or what pick they choose to package with him. Should they keep him, they'll have a legit scoring 2-guard to put next to Melo.
And as a core element, they have
Luis Scola
. Scola is a top power forward in the West this year. He has ability to play in the post, can defend out to mid-range as well as down low, and rebounds well. Even at 30 years old, he's a piece worth building around, especially at only $16 million over the next two years.
Melo's wife La La Vasquez may want the bright lights of New York. But if Anthony really wants to contend, he needs to hitch his wagon to a management and ownership group who is willing to work to make sure he has a contender each year, and will pounce on opportunities to make the team better. Daryl Morey offers that, and without the baggage that New York is still struggling through without draft picks. Mark Cuban's
Mavericks
are in a similar situation, but with Houston, there's no Dirk-Nowitzki-type player who Melo would have to share the spotlight and ball with. He'd have free reign to be the man, have a legitimate chance at winning, and an organization committed to success.
A player's legacy isn't forged in commercials and cocktail parties. Houston's not the most glamorous city in the league. But ask Hakeem Olajuwon what playing there did for him.