Tracy McGrady calls out Chris Bosh, the Bobcats look to deal for a veteran point guard, Chris Webber asks questions about Brandon Roy, the Kings look to build a new home and Landry Fields continues to get a lot of love in NYC. Posted by Ben Golliver.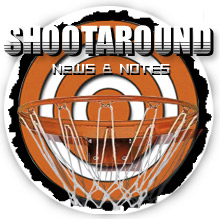 Tracy McGrady returned to Toronto Wednesday night and was booed by Raptors fans, years after he departed the city for Orlando. McGrady's response, via the Vancouver Sun. ""Keep booing me. I love it. It really doesn't bother me at all," said McGrady, who at one point even talked back at a heckling fan after hitting a shot. "It's not like I was like Chris Bosh and selling out the city like the city was horrible or something, making crazy comments about the city."
The Bulls destroyed the Sixers the other day, and Tom Haberstroh notes that center Joakim Noah's absence couldn't come at a better time for Chicago, given their easy schedule over the next six weeks.
Houston Rockets guard Kevin Martin tells NBA Fanhouse he's not too thrilled about the idea of rebuilding in Yao Ming's absence. "Rebuilding is definitely not something I want to go through again," said Martin, whose contract runs through 2013 and has a combined $24 million remaining after this season. "Daryl thinks I'm an important member of this team, especially on the offensive end, for many years to come. But this being the business, you just never know."
Speaking of Fields, the Knicks defeated the Oklahoma City Thunder on Wednesday night, causing PostingandToasting.com to get pretty excited about life. "Landry Fields. Oh, Landry Landry Landry boy. How do I love thee? Let me count the ways. I love when you get a hand on a rebound, helping the Knicks regain possession without ever personally securing the ball. I love when you cut baseline for easy backdoor buckets. I love when you make slick passes in transition. I love when you nail open threes, ugly as your form may be. I love when you poach passing lanes so expertly that it looks like the pass was intended for you. I love you when you bum rush the offensive glass for tip-ins. I love when you block the shots of guys who tower over you. I love when you throw outlet passes right on the money. I love when you claw over screens to draw charges. I love when you laugh, because I laugh too. I love when we sing to each other. I love when we frolic and pick wild berries together. You complete me, Landry Fields."