Miami Heat forward LeBron James would rather not play on Christmas Day. Posted by Ben Golliver.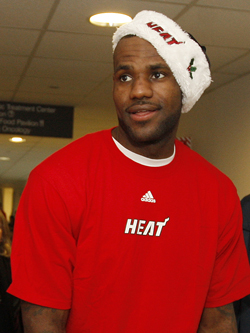 Miami Heat forward LeBron James will face off against the Los Angeles
Lakers
on Christmas Day in a match-up that's been anticipated for months, but that doesn't mean he's happy about it.
The Associated Press reports
that James has added his voice to the NBA crowd that believes players should be able to be home with their families on Christmas.
"If you ask any player in the league, we'd rather be home with our families," James said. "I think the people that even set the games up would rather be home with their family during this day. It's not just a regular holiday. It's definitely one of those days that you wish you could wake up in the morning with the kids and open up presents."
James' two children will do their gift-unwrapping on Christmas Eve this year.
Who cares when James' kids will unwrap their gifts? I'm more concerned about all those kids at the Greenwich Boys & Girls Club who served so ably as props during "The Decision." James is taking care of them this week too, right? While being away from your loved ones on a holiday is a regrettable annoyance, especially for premier teams that play on Christmas year after year and therefore miss the memories on an annual basis, being forced to play on Christmas is better than not playing. One needs only to think about the collective bargaining agreement negotiations this summer for some added perspective. If a lockout leads to a work stoppage that extends through December next season, how many players, without six months of paychecks, would be griping about not being able to spend time with their families on Christmas? Christmas is supposed to remind us all about our priorities. Life can always be better, but it can always be worse, too. In the grand scheme of things, entertaining millions of people on an international stage and being paid eight figures a year to do it comes with some sacrifices. And a job, even one with less-than-ideal scheduling, is always a nice thing to have. See also:
CBSSports.com's Gregg Doyel has the lowdown
on LeBron James' super duper South Beach birthday party.