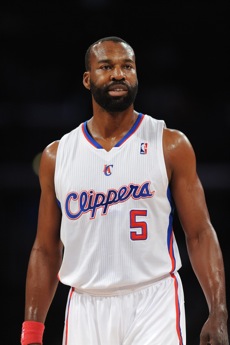 Posted by Royce Young
Things are getting moved around in Charlotte right now. First it was Michael Jordan assuming ownership of the team last year. Then it was Larry Brown being shown the door. Next was Paul Silas taking Brown's place with Charles Oakley joining the staff.
But all of that doesn't directly affect the personell on the floor. Well, the
Bobcats
are maybe getting to that.
There has been some chatter about Charlotte blowing the whole thing up and starting over by sending
Stephen Jackson
and
Gerald Wallace
elsewhere.
As mentioned in today's Shootaround,
according to Yahoo! Sports,
Jordan and the Bobcats might go a different direction.
Reportedly, Jordan is considering sending
D.J. Augustin
,
DeSagana Diop
and
Matt Carroll
to the
Clippers
for
Baron Davis
.
The trade works in terms of salaries, but I'm sure Neil Olshey and the Clippers front office feels like it can do better than that. Reality is, they probably can't. Davis is still owed over $40 million through 2013 and isn't exactly playing great basketball. It would be a cost-cutting move for the Clippers and a major play towards a full-on youth movement. It makes complete sense for the Clips. Hand the reins to
Eric Bledsoe
and Augustin, let them lob to
Blake Griffin
and get out of the way.
But why would Charlotte do this? Jordan is likely banking on a new scene giving Davis a kick in the pants to start playing how he's capable. Davis first played for Paul Silas in 1999 when Silas was the head coach of the Charlotte
Hornets
who drafted Davis fourth overall. Davis played his first five seasons with the Charlotte Hornets so maybe a little nostalgia and reunion will bring back the talented Baron Davis.
It's a long shot and reeks of desperation if it happens. Baron Davis can certainly still play, but that's a lot of money to take on for a player that may or may not help you. You're not sending off too much in Augustin, Diop and Carroll, but you lose some flexibility and now have a big contract on the books for three years. That's risky.
But Jordan may feel like he has to take this shot before he blows it up. He still has Jackson and Wallace so maybe he's thinking he's got to at least try to do something. Remember, this was a playoff team last season. The loss of
Raymond Felton
proved to be far bigger than anyone could see coming, so Jordan is trying to find an apt replacement. Problem is, that replacement is going to cost.