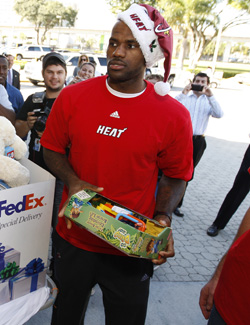 King James wants to destroy multiple fanbases in the NBA in pursuit of a return to the 80's.
Posted by Matt Moore
Akron's favorite son apparently hadn't done enough damage to the small-market
Cavaliers
. After leaving them high and dry in free agency on national television without so much as a text for a heads up, and then returning to a rabid chorus of boos only to detonate them on their home floor, LeBron has pretty much buried Cleveland as a franchise in rubble over the past six months.
Now he's kicking the dirt over the leftovers.
Ken Berger of CBSSports.com reports that LeBron spoke to reporters prior to Thursday night's
Heat
game in Phoenix and managed to support contraction without saying contraction (always the delicate soundbyte for LeBron):
"Hopefully the league can figure out one day how it can go back to the situation like it was in the '80s," James said. "… The league was great. It wasn't as watered down as it is. You had more [star] players on a team, which made almost every game anticipated -- not just a Christmas Day game, not just a Halloween game. I don't ever think it's bad for the league when guys decide that they want to do some greatness for the better of what we call a team sport.


"I'm a player," James said, "but that's why the league was so great. You can just imagine if you could take Kevin Love off Minnesota and add him to another team and you shrink the guys … I'm just looking at some of the teams that are not that great. You take Brook Lopez or you take Devin Harris off teams that are not that good right now and add them to a team that could be really good. I'm not saying let's take New Jersey, let's take Minnesota out of the league. But hey, you guys are not stupid. I'm not stupid, but I know what would be great for the league."
via
LeBron: Contraction would be 'great' for NBA - CBSSports.com
.
So LeBron thinks that the teams which are "not that great" should be contracted. Getting past the question of whether or not he's flirting with tampering with Kevin Love, Brook Lopez, and Devin Harris, it's pretty easy to make the argument that Cleveland's going to be "not that great" for the foreseeable future... since LeBron left. With
the 17th biggest media market
, you'd think that Cleveland would be safe. But if we're eliminating the
Nets
in this scenario, we're killing off a team soon to inhabit Brooklyn. Cleveland's got to be on the eventual list of targets should the league begin to contract.
And speaking of the Nets in this scenario, how is James' friend Jay-Z going to feel about his buddy not only turning him down in summer, but then suggesting his team should be contracted? Jay-Z's invested in the Nets, has pitched players as an owner, and yet his one-time supposed protoge is discussing simply disintegrating his team and selling off the pieces for parts. That's got to make for a few awkward texts.
Regardless, my colleague Ken Berger thinks that LeBron's right and that contraction is a great idea, that it would create more talent on the teams that exist, with multiple stars. But in the 80's when we had that wonderful time, we didn't really. The
Lakers
did, as they do now. Back then they had Kareem Abdul Jabbar,
Magic
Johnson, James Worthy, Mychal Thompson, and Michael Cooper. Now they have
Kobe Bryant
,
Pau Gasol
,
Lamar Odom
,
Ron Artest
,
Andrew Bynum
, and
Derek Fisher
. The
Celtics
did, as well. with Larry Bird, Robert Parish, Kevin McHale, Bill Walton, and Dennis Johnson. The Celtics now have
Ray Allen
,
Kevin Garnett
,
Paul Pierce
,
Rajon Rondo
,
Shaquille O'Neal
,
Kendrick Perkins
, and
Nate Robinson
. And if we contracted? Those same teams would have even more All-Stars, leading to more Boston versus LA battles. But would it make the rest of the league better?
You had the Sixers at that time, a fading dynasty with Julius Erving, Maurice Cheeks, Andrew Toney, and Moses Malone. You had the Houston
Rockets
with Hakeem Olajuwon and Ralph Sampson. But really, it was just LA and Boston who were great teams. And the same would happen now. You might have New York or Chicago use their market influence to make a push, but in reality, you'd still have what you have now. Three teams with championship potential, and a bunch of Washington Generals wandering around.
David Stern has been clear throughout the CBA process that changes must be made to revenue sharing in an effort to improve competitive balance. The problem isn't these teams dragging the league down, the problem is how difficult it is for small market teams to succeed. They can, they just have to be nearly flawless, as the
Spurs
have been. And big market teams can fail, but they have to be steeped with horrific decisions to not prosper, as in the case of the
Knicks
over the past decade and the
Clippers
over the past ... forever.
When James says he wants to contract teams that are "not that great" he's basically playing on what's going on at this very moment. For example, if Glen Taylor were to either sell the
Timberwolves
, or move David Kahn for a GM with a more competent plan outside of "Boy, I hope
Ricky Rubio
is awesome" then Kevin Love may not be wasted at all in Minnesota in a year. When the Nets move to Brooklyn and can attract free agents with a new arena in the Burroughs, things are likely to turn around. What then? Do we then contract whoever's bad that point? If the
Suns
tank after
Steve Nash
retires, do we eliminate the Suns? What if the Blazers sink to the bottom as their injury history mounts to a breaking point?
There are legitimate economic reasons to contract, including the viability of the league in markets which may not be big enough to support it. But simply in an attempt to create more great teams? We'll simply be making elite teams more elite, perpetuating the problem.
Here's a better idea. With the most obnoxious free agency ever perpetrated by their three stars, followed by the most disappointing two months of basketball in NBA history and the team clearly a step behind the Celtics in pursuit of a championship, why don't we talk about sending those star players elsewhere? Why don't we talk about contracting the Heat. Maybe then James will give pause before he starts trying to advance his reign through the elimination of entire fanbases.