Tis the season for Heat-Lakers, Celtics-Magic and more as we preview the NBA Christmas Day extravaganza.
Posted by NBA F&R Blog Staff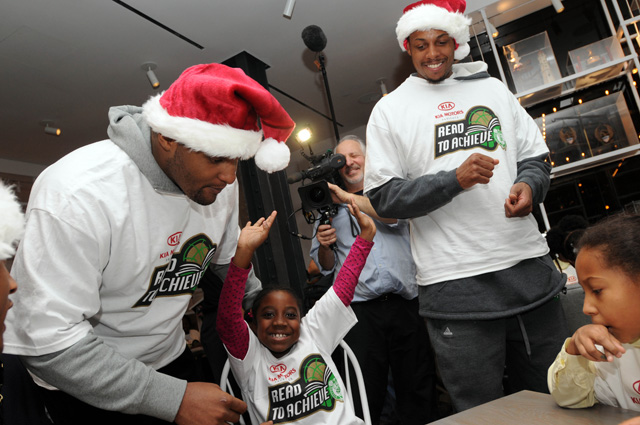 With five games on the NBA schedule Christmas Day, we walk you through each one, letting you know how to fit in your basketball with your sugarplums (we don't even know what those are, just go with it).
Miami Heat at Los Angeles Lakers, 5 p.m. ET
When the Lakers and Heat tip off Saturday afternoon at Staples Center, their goal will not have anything to do with the other team. Forget sending messages, staking claim, or becoming top dog in conference (an impossibility for both teams considering their records relative to the conference leaders). This is about finding out about themselves.
The Lakers have drifted after a stunning start, losing to teams they have no business losing to and doing so on a regular basis. Even the win streak they peeled off came against exceptionally weak opponents like the
Wizards
, Sixers, and
Pacers
. In reality, this is their first big test against a contending opponent since their loss to the
Bulls
two weeks ago in Chicago. No one really doubts the Lakers, not yet. But a loss on Christmas Day in a major hyped game against the Heat would definitely put a damper on Christmas and plant some seeds of doubt about their ability to simply breeze through to another title. Beating LeBron and company allows them to send a message: "Don't confuse our coasting with weakness. We've got our fingers on the switch ready to flip."
The Heat on the other hand, are in a no-win position. Should they beat L.A., downing the defending champs with
Kobe Bryant
in Los Angeles, critics will simply say what they've said every time the Heat have managed to win this season: it doesn't matter until the playoffs. (Note that when the Heat lose, this same approach is not employed; suddenly the games matter when the Heat lose "meaningless" games.) Should the Heat lose, well, that just means they're definitely not ready for prime time and that Kobe is still the real King. But testing themsevles against LA give them an opportunity to see where they're at and if the progress they've made is real in any sense. Beating the Lakers wouldn't be a real victory in terms of contending status, but would at least give them a measure of how good this team can be.
So how does this matchup shake out, exactly?
L.A.'s interior defense is considerably bolstered by the return of
Andrew Bynum
, and they're going to have considerable advantages inside. The Heat have no one to counter Bynum or Gasol inside, as
Chris Bosh
is simply not good enough to slow down
Pau Gasol
if he gets touches.
Lamar Odom
, Andrew Bynum, and Kobe Bryant should have their hands full on defense in this game, and in fact, Bryant may want to take a backseat on offense just so he can keep
Dwyane Wade
and
LeBron James
in check on the perimeter. This isn't to say Kobe can't get it done on the offensive end, but it's a strategy that would play both to the Lakers' strengths and the Heat's weaknesses. Somehow I doubt Bryant will opt for that.
Bryant needs to be careful though. If he decides to come out guns slinging and the triggers aren't perfectly aligned, he's going to start the fast break for the Heat. And that's their bread and butter. The Lakers need to slow this game down and force Miami to beat them in the halfcourt set, with
Carlos Arroyo
and
James Jones
taking jumpers. Do that, and Miami will wither and die on the vine. But get into an up-down type game with them, and the youth of Miami may create some problems for the Lakers.
Bench play will probably be huge in this game, since the Lakers have such a phenomenal advantage.
Shannon Brown
versus
Mario Chalmers
.
Matt Barnes
versus
Juwan Howard
.
Steve Blake
versus
Eddie House
, should Erik Spoelstra elect to turn to the veteran. The Lakers are dominant in this regard and should be able to extend leads or close deficits while multiple members of the Big 3 for Miami rest.
This isn't a game about sending a message to a possible Finals opponent. The Heat just aren't there, yet. But it is about proving something to themselves. For the Lakers, it's a firm conviction that they can turn it on whenever they need. For the Heat, it's that they may finally be ready to play with the big boys, something they have yet to show this season.
Should be merry and bright, indeed.
Boston Celtics at Orlando Magic (2:30 p.m ET)
The Magic just started clicking a bit with their new, revamped roster with a big win over the streaking
Spurs
. Now they get another chance to bust a big streak.
The sizzling Celtics come to town riding a 14-game streak and playing as the best team in the Eastern Conference. Boston is doing damage behind a devastating defense and an offense that scores consistently throughout the entire 48. If Orlando expects to hang with Boston, the Magic will have to get production from their new line of scorers.
Gilbert Arenas
,
Hedo Turkoglu
and
Jason Richardson
will have to provide
Dwight Howard
some major help. If Orlando doesn't get that, the Celtics will feast on the Magic's stalled offense and probably cruise to a 15th straight win.
What Boston does so well defensively is that it funnels the opposing offense into becoming one dimensional. The Celtics take what you want to do and use it against you. Orlando wants to use dribble penetration to clear lanes for Howard and also to free shooters. Boston's fine with letting you try and do that, but they're just going to close those lanes off and shut down the shooters. This is a game where Howard will have to play big on the inside of Orlando wants to play with the Celtics.
However, the new Magic have options that they didn't have before. This feels like it could be a big opportunity for Arenas to really break out offensively or for Turkoglu to get some of that isolation play going where he drains step-back after step-back. The Celtics can play with Orlando if it's scoring, but the Magic have the players to put points up in a hurry. Boston wants a game in the high 80s, while the Magic probably want to push the pace a bit more and score in triple-digits.
This game will likely come down to who gets to play their game the longest, and also who plays the other guy's game better. The Celtics are tested and typically thrive in these situations, but the Magic may be gelling a bit. There's definitely a chance here to play streak-buster a second time for them.
Chicago Bulls at New York Knicks (12 p.m. EST)
A rematch of the November 4th Knicks win, this game features two teams still trying to gain an identity. After a long impressive win streak, the Knicks dropped three straight to Boston (understandable, especially on a buzzer beater), Miami (understandable, even in a blowout), and Cleveland (not understandable in any universe ever created). Then they go out and drop the
Thunder
this week, just to keep us on our toes. The Bulls? We know they're good. But
Joakim Noah
is out with a hand injury, which changes much of their dynamic. This game could wind up being a preview of a first-round playoff series, and we're going to see a lot of familiar themes most likely. Primarily that
Carlos Boozer
can't guard
Amar'e Stoudemire
in any impactful way, and that the Knicks are going to be run through by the saber that is
Derrick Rose
, especially on the pick and roll.
This should be a fun one to open the day with, in a fast paced affair featuring two good point guards (and one elite), two good power forwards (and one elite), along with capable supporting players. The Knicks will need to send help in the form of wing defenders when Rose drives off the pick and roll, or he's going to get to the basket all day long. They have to take their chances with
Kyle Korver
and
Luol Deng
on the perimeter. The Bulls on the other hand will need to flash help at Stoudemire to get him off the shot-fake elbow-jumper that he's killing teams with this season. Tom Thibodeau versus Mike D'Antoni also means a classic clash of styles.
Denver Nuggets at Oklahoma City Thunder (8:00 p.m. ET)
The primetime Christmas Day game lost some of its luster with
Carmelo Anthony
missing due to a recent death in his family. Obviously, basketball has taken a backseat for Carmelo and rightly so. But despite his absence, there's still an important Northwest Division game to be played.
The Thunder are right atop the division with the Nuggets just a few back. Oklahoma City hasn't been the most consistent team in the world but with
Kevin Durant
and
Russell Westbrook
playing as the most dangerous tandem in basketball, they don't have to be. Denver will look to run and get hot from outside to keep pace with the Thunder's big guns, but OKC's improving defense will be a key in shutting off a big Nuggets run.
The game may not have the same star power and spotlight head-to-head matchup of Carmelo and KD, but it's still something worth watching.
Four out of five big-time match-ups isn't bad. Christmas Day's nightcap is easily the least glamorous affair on the schedule, with the Golden State Warriors and Portland Trail Blazers, two teams that have battled injuries for the last two seasons, facing off in California.
Blazers guard
Brandon Roy
and center
Joel Przybilla
won't play, and Portland will continue to run things offensively through its make-shift centerpieces,
LaMarcus Aldridge
and
Wesley Matthews
. The duo has stepped up big in Roy's, as has reserve guard
Rudy Fernandez
. The Blazers just beat the Warriors in Portland last week, so what will be different this time around? For starters, Portland always struggles on the road against the Warriors, and Golden State point guard
Stephen Curry
, as of this writing, is expected to make his return from a nagging ankle injury that has kept him out since Dec. 8. In Curry's absence, it's been all
Monta Ellis
all the time for the Warriors, as Golden State's leading scorer has maintained his big numbers from last season (25.6 points, 5.3 assists, 3.5 rebounds), while improving his field goal (from 44.9% to 48.0%) and three-point shooting (from 33.8% to 36.4%) numbers. Ellis had a chance to beat the Blazers at the buzzer in Portland, but it rimmed out. He's hit for 30+ four times in December, and could easily make it five on Saturday, assuming that he's out for a little Christmas revenge.