Christmas is here and Santa's making his list. Here's what NBA teams and players are wishing for this holiday season.
Posted by the NBA F&R Staff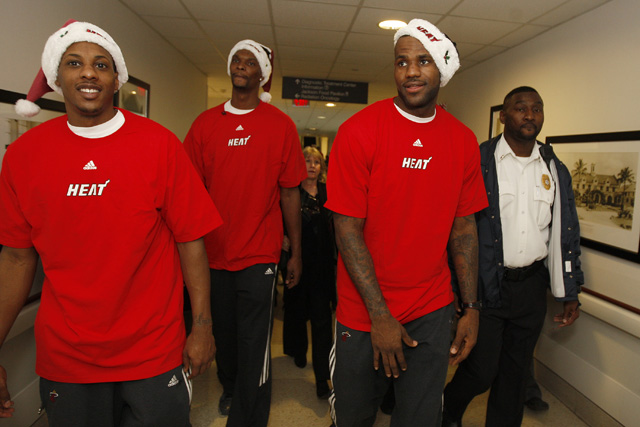 Ho-ho-ho! Christmas is here, and Santa is on everyone's mind. Thanks to NBA F&R's crack team of reporters (and by reporters we mean dudes who make stuff up), we have obtained special leaked copies of classified documents: the Christmas wishes of NBA teams and players. Here's what your favorite teams and players are hoping Santa will bring as he makes his way around the world. Merry Christmas to all, and to all a good ... ability to make the playoffs and hopefully avoid a lockout next year!
Atlantic Division:
Boston
: A digital camera, so they can capture this time in their lives. The
Celtics
are destroying everyone and have looked like the best team in the league all season. With the Big 3 getting older, a camera will let them cherish these special times.


New York:
Gatorade. Running up and down in Mike D'Antoni's system after a Christmas feast is going to take it out of you. Seven ounces or less is more like it.


New Jersey:
Russian
Rosetta Stone
. Gotta speak the boss' language, after all.


Philadelphia:
Slinkies
! Because much like the kids toy, they're inconsistent and tend to only go down.


Toronto:
A ladder for
Andrea Bargnani
. Maybe then he'll grab some rebounds.
Southeast Division:
Miami:
An ounce of humility. I kid, I kid. But, really they don't need anything. Except
Udonis Haslem
back healthy.


Atlanta:
An eraser for the last zero on
Joe Johnson
's contract.


Orlando:
They already got
Jason Richardson
. What more do they want?


Charlotte:
An air horn to drown out new assistant coach Charles Oakley's press conferences.


Washington:
A case of new-age "supplements" to revive the artist formerly known as
Rashard Lewis
.
Central Division:
Chicago:
An MVP trophy for
Derrick Rose
. Because the whole city is reeaaaaallly trying to sell us on that.


Indiana:
A frontcourt that combines
Josh McRoberts
and
Tyler Hansbrough
. Wait, they already have that? It's a Christmas miracle!


Milwaukee:
An extra middle name for
Luc Richard Mbah a Moute
. Maybe some like Chad. Luc Richard Chad Mbah a Moute. Detroit: Someone willing to trade for
Tayshaun Prince
or
Richard Hamilton
. Come on, someone.


Cleveland:
Long, deep sigh. It's not even worth saying.
Pacific Division:
Los Angeles Lakers:
What does the richest guy in the world want for Christmas? A healthy knee for
Andrew Bynum
.


Phoenix:
For
Hakim Warrick
to somehow magically evolve into
Amar'e Stoudemire
. Or even at least a sucky version of Amar'e Stoudemire. That would be good enough.


Golden State:
A couple wins for the love of
Monta Ellis
. Los Angeles
Clippers
: Another ultimate highlight from
Blake Griffin
. They have so little. At least grant them more of that.


Sacramento:
A new arena. Some wins, a healthy
Tyreke Evans
and a sane
DeMarcus Cousins
would be nice, but it doesn't really matter without a new arena.
Southwest Division:
San Antonio:
A one-way bus ticket to Roswell, NM, for UFO aficionado
Manu Ginobili
.


Dallas:
Dirk wigs (pre-buzz cut) for the entire team. Especially
Caron Butler
.


New Orleans:
An owner. Any owner. Please?


Houston:
A trade partner for
Yao Ming
's Expiring Contract.


Memphis:
Paying fans. That
Mike Conley
check isn't going to sign itself, you know.
Northwest Division:
Utah:
Home court in the playoffs. Forever. Every round. Pretty much never leaving Energy would be fine.


Oklahoma City:
The movie "
Big
." Since that's pretty much what they've done in the NBA anyway, growing up as kids. Barring that, silly string. Because, you know. They're the
Thunder
.


Denver:
For Melo to go through "
It's a Wonderful Life
" and realize that things would be better if he stayed in Denver? Beyond that, booze is probably a good call to prepare for his imminent departure.


Portland:
Bandages, aspirin, first-aid kit, IVs, gauze, physical therapist coupons, and milk (for healthy bones). In other news, we at F&R are hoping for jokes that aren't quite so obvious.


Minnesota:
Kevin Love just wants one thing. A ticket out of Minneapolis.


From all of us here at CBSSports.com's NBA team, we want to wish you happy holidays for you and yours. We'll have coverage of Christmas Day's games, so be sure to check us out in-between the eggnog and hating your relatives.