Andray Blatche and JaVale McGee of the Washington Wizards reportedly exchanged punches at a Washington, D.C. nightclub on Christmas Eve. Posted by Ben Golliver.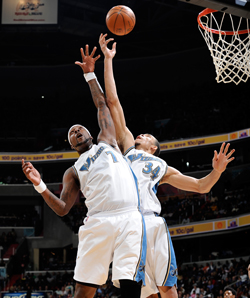 Washington Wizards forward Andray Blatche and center JaVale McGee took a short break from underperforming on the court to engage in fisticuffs at a nightclub on Christmas Eve,
reports the Washington Post
.
Multiple league sources have confirmed that teammates Andray Blatche and JaVale McGee were involved in an altercation outside an area club early Friday morning.
Witnesses have said that the players were screaming expletives at each other, but two league sources added that Blatche and McGee also exchanged several punches at the Shadow Room in Northwest Washington. A Wizards spokesman released a statement late Friday that read, "The team looked into the matter earlier today and determined it was simply a disagreement between teammates."
Well, on the bright side, it was fists and not firearms. Friday morning's incident comes roughly one year after former Wizards guards
Gilbert Arenas
and Javaris Crittenton got into a disagreement that saw Arenas bring multiple guns into the team's locker room, and ended with Arenas suspended for the remainder of the season. Both players are young. Blatche is 24 years old and McGee is just 22, and no one would confuse either player with a mature adult. But their altercation, with some details still remaining unclear, is another sign that there is still work to be done in changing the Wizards' culture. Washington's new owner, Ted Leonsis, has said in recent interviews that a full rebuilding effort will take multiple years. Both Blatche, who is averaging 16.8 points and 7.7 rebounds, and McGee, who is averaging 9.2 points and 8.3 rebounds, are generally assumed to be in the team's longterm plans, which focus on building around franchise point guard
John Wall
, the No. 1 overall pick of the 2010 NBA Draft. But with any headline-drawing incident like this, it's good to step back and ask a simple but tough question: Will these players help Wall achieve greatness, will they stand in the way, or will they be a distraction? Bottom line: if they're not helping, they're hurting. The Wizards are currently 7-20 and in last place in the NBA's Southeast Division. With no meaningful games remaining in their 2010-2011 season, this is an excellent time for the Wizards to take a hard-line stance on player transgressions. Get through to them, or get them out of there. Wall's future is too bright to waste.