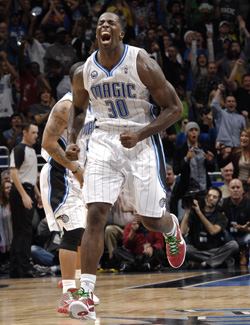 Brandon Bass and Hedo Turkoglu help Magic come from behind to beat Paul Pierce, Kevin Garnett, and the Celtics.

Posted by Matt Moore
The Celtics are probably sitting in their locker room with a stunned look on their faces, asking "
What just happened
?"
The answer? Brandon Bass, believe it or not.
The Magic offense stalled the entire day, looking out of sync and generally being run over by Boston's physical toughness, Brandon Bass delivered in a huge way. He provided a stretch 4 that could also work to get shots in the paint, something missing from previous Orlando-Boston matchups and finished with 21 points on 8-15 shooting and nine rebounds. His mid-range jumper with 2:02 remaining tied the game. Then the wackiness started.
Paul Pierce airballed a turnaround jumper after being automatic the entire game.
Jameer Nelson
, who had been terrible the entire game and finished 3-9, nailed a three,
J.J. Redick
popped a mid-range jumper and the Magic wouldn't look back. In the midst of this, Kevin Garnett would miss a key free throw. Because that happens a lot.
The Magic prevailed despite
Dwight Howard
being in foul trouble, and
Gilbert Arenas
and
Jason Richardson
combining for 4-17 from the field. It was a dreadful game for both players, Arenas seemingly bothered by knee trouble and having issues with his handle, and Richardson unable to land his spot-up threes weren't just non-contributors, they were liabilities. But the newly acquired Magic did have one guy who showed up to play, and he brings just one word.
"Ball."
Hedo Turkoglu's stats weren't out of this world, until you consider his role. Turkoglu finished with 16 points, four rebounds, four assists, one block, and no turnovers. Turkoglu threaded passes to Dwight Howard (the only guy who seemed committed to getting the big guy involved), hit big threes, and most importantly, played terrific defense, as he helped on doubles to keep Pierce off the elbow jumper, and closing off passing lanes. Turkoglu may have been the best overall player on the floor for the Magic today behind Bass. If you expected that coming in, you get a cookie.
The Celtics have to wonder how they let this one get away, with Dwight Howard, Gilbert Arenas, Jason Richardson, and Jameer Nelson having bad games and Kevin Garnett playing at an MVP level today.
Rajon Rondo
being gone is a huge caveat, and it's December, not May. But this is a loss that may bother the Celtics until the two teams meet again.