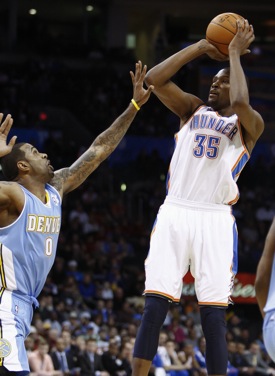 Posted by Royce Young
OKLAHOMA CITY -- Not often do you see someone with 44 points completely take over a game in the fourth quarter, despite only taking two shots.
But that's exactly what
Kevin Durant
did for the
Thunder
in Oklahoma City's 114-106 Christmas Day win over the
Nuggets
.
When I say "take over," I don't just mean that he dominated the ball and forced the defense to adjust to him. Point guards can do that all the time. But after Durant dropped 21 in the third quarter to give him 40 going into the fourth, Denver made the natural adjustment to double him every time he touched it, no matter
where
he touched it.
The Nuggets wanted to force someone else to beat them other than Durant by trying to take the ball out of his hands, but he beat them anyway. Just in the way they didn't expect.
Durant made every right decision when the double came, passing to cutting teammates, swinging the ball wide and setting others up almost every time down the floor. Even when the Thunder came out with an empty possession, the shot taken was still a good one.
"The only thing I was thinking was 'hockey assist'," Durant said after the game. "I just wanted to catch the ball as close as I could to the basket and go from there."
"Hockey assist" is definitely the best way to describe how he worked out of the doubles. He finished with just four assists, with only two coming in the fourth, but if this were on ice, he would've been racking up points like Sidney Crosby.
Of course Durant couldn't lie after the game though. His career-high is 47 (set two years ago against the
Hornets
) and with 40 entering the fourth quarter, he admitted to having 50 on his mind. But he wasn't going to get greedy on Christmas. He was fine with what he had and the only other present he wanted was a nice Thunder win under his tree.
"Back of my mind I wanted it bad, but I wanted a win worse," he said.
Not to say Durant did this all by himself. He did score 44 on a slick 14-20 shooting, but
James Harden
poured in 21 off the bench and
Russell Westbrook
added 19. It's a luxury the Thunder have. It's one thing for your star to pass out of a double-team. It's another to pass it to guys that can actually put the ball in the hold. That certainly helps.
Of course this game might've been a lot different had
Carmelo Anthony
been available. Anthony of course is away from the team currently after the death of his sister. But without him, Denver just didn't know where to go - on both ends. George Karl tried a number of things with Durant. The aforementioned double, the bigger
Kenyon Martin
, the smaller J.R. Smith, the middle-sized
Arron Afflalo
- obviously it didn't really work.
Wait, that's exactly what Kenyon Martin said too when asked what the Nuggets tried. "Whatever it was, obviously it didn't work. That kid's a helluva player. He can shoot the ball with unlimited range so when a guy can do that it's rough."
But not only would Anthony have provided a natural fit defensively to check Durant, but also someone to look to on the offensive end. Chauncey Billups was great with 30 points on 10-16 shooting,
Ty Lawson
added a solid 19 and Nene had 21, but the Nuggets were missing that go-to option late in the game. OKC outscored them 26-21 in the final frame and pulled away to hold a 12-point lead late when Denver came up empty on multiple trips.
For the Thunder, it's a nice bounce-back win after dropping a sloppy loss to the
Knicks
last Wednesday. For the Nuggets, it's the third loss in four tries, but a valiant try without Anthony.
And for the Thunder's star, it was quite the gift to a sold out crowd in OKC. Not quite the 50 he was hoping for, but like Durant said, the win will do just fine.
"It's been a great Christmas already so far," Durant said. "Waking up in the morning with all my family around, opening gifts and just having the opportunity to play the game of basketball on Christmas. Not too many people get to do what they love to do, so getting to do it on Christmas Day in front of family felt great. But to get 50 would've been a cherry on top."