Shaquille O'Neal criticized the officiating during Christmas Day's game between his Boston Celtics and the Orlando Magic. Posted by Ben Golliver.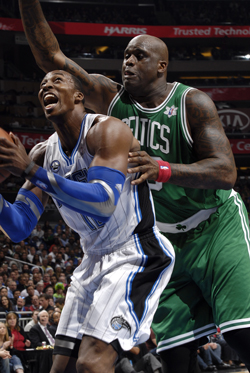 Christmas is the NBA's showcase day, but if you ask Boston Celtics center Shaquille O'Neal, all eyes were on the officials instead of the players during the Celtics' 86-78 loss to the Magic in Orlando on Saturday.
O'Neal, who was tasked with defending the league's premier big man, Magic center and MVP candidate
Dwight Howard
, scored just two points in 13 minutes before fouling out. During his post-game comments, O'Neal pointed the finger at referee Bob Delaney for ruining Christmas for the fans,
according to CSNNE.com
.
Needless to say, O'Neal had some choice words for the officiating. "I guess they came out to see number 26 today," O'Neal said.
The only No. 26 on the floor Saturday was official Bob Delaney. "He (No. 26) was a great player out there today," O'Neal said. O'Neal added, "They (fans) paid all that money to watch No. 26 play. If I was a fan, I would be pissed. You pay all that money for good seats, you have two of the best guys in the (NBA) sitting on the bench, out of the game. That is what happens when you have control freaks out there."
One suspects that publicly referring to an NBA referee as a "control freak" will lead to a fine from NBA commissioner David Stern. While Delaney was a headliner of this game because he whistled Howard for
violating the league's 10-second limit during a free throw attempt
, O'Neal's comments are surely a case of sour grapes, at least in part. The Celtics collapsed in the fourth quarter, losing the quarter 29-15, and O'Neal registered just one rebound, one steal and one block in his time on the court. While he's tried every trick in the book on the court (pulling Howard to the ground during the first half) and off (saying Howard stole his "Superman" moniker in past years), the sun is setting on O'Neal's career, and that's a difficult reality to cope with. That O'Neal still thinks he is in Howard's league and refers to himself as one of "the best guys in the league" is a major post-Christmas bummer.
Kendrick Perkins
can't get back soon enough.