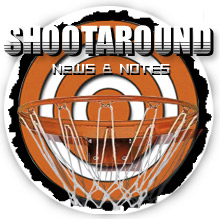 Rose having a tough time in the mid-range, Dirk and Horford to get scans, Bynum still brimming, and Steve Francis bids ... whatever the Chinese word for goodbye is to China. All this and more in today's Shootaround.
Posted by Matt Moore
Derrick Rose
is having a
hard time in the midrange game
, mostly because he doesn't trust his jumper yet, even though it's improved. He's especially improved in 3-point shooting, but continues to try floaters from mid-range.
Dirk Nowitzki
w
ill have an MRI this morning
on his injured knee. So try not to scare your Maverick fan friends too much this morning. They're going to be a little jumpy.
Al Horford
will also have
an MRI on his hand this morning
. We'll keep you updated on both of their statuses.
Andrew Bynum
is still "
brimming with potential
" apparently. At this point I think it's better to say he's brimming with disappointment. Or, "brimming with doctor's appointments."
And just like that... Steve Francis
was gone
. From China.
Fan sensation
Jeremy Lin
will likely spend some time
in the D-League.
The sixth-man who was traded for Kareem Abdul-Jabbar
now is a restaurant mogul
.
One thing of vital importance to the
Celtics
? Transition defense,
because it's feast or famine for them
.
The
Rockets
and
Bobcats
are both in talks with Houston about
acquiring the
Yao Ming
salary dump.
Nets
blog Nets Are Scorching asks the question: "LeBron James:
Evil or Stupid
?"