Stars in small-market Memphis, Rudy Gay and Zach Randolph, weigh in on the good and bad of the idea of contraction.
Posted by Matt Moore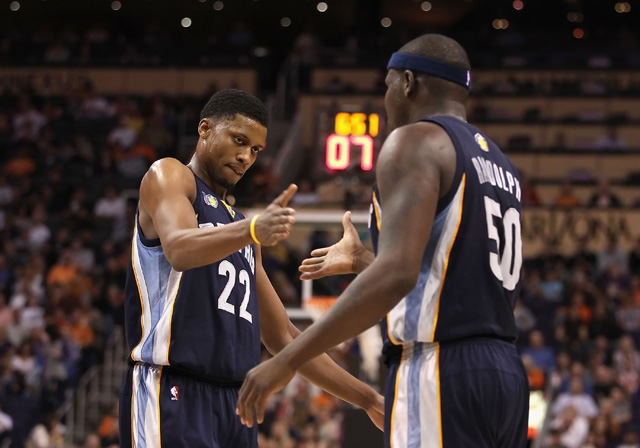 While
LeBron James
is walking back
his
contraction talk
as quickly as possible, other players are weighing in on the issues at play. In Memphis, the issue of contraction will likely involve the
Grizzlies
at every turn. A small market team with poor attendance and fewer than 30 wins in five of their nine seasons, the Grizzlies are at the top of every contraction advocate's list for elimination.
James' main point was about the possibility of great teams, where you'd have stacked rosters like there were in the 80's. (Even though they
weren't that stacked in the 80's
.) On such teams, Rudy Gay may not be the leader and star he's becoming in Memphis (20.8 points, 6.2 rebounds, 1.2 steals), he'd be a role player. Gay's very clear in his support of Memphis,but says that it may be the best thing for the league to think about cutting the number of teams in order to create those teams.
"Yes and no. If I was speaking like I was with the NBA, I'd say yes," Gay told CBSSports.com Monday night. Of course, with more guys, more power teams, there's more focus on those teams, rather than the Indiana
Pacers
or New Jersey
Nets
."
At the same time, Gay feels like the great players in this league who already go unnoticed next to the biggest names the league markets would suffer if they were all crammed on teams fighting for top billing.
"I say no, for us as players. It's kind of tough when the NBA is focused on one team (the Miami
Heat
) like it has been this year. This league has a lot of great players, like
Joe Johnson
,
Derrick Rose
, and even
Kevin Durant
's not even getting that much attention. Even
Caron Butler
, who plays next to
Dirk Nowitzki
. Even myself,
O.J. Mayo
, Zach Randolph, it's hard when they have power teams that have so much focus, it's hard for us players. But we'll keep on proving it and eventually these guys will get noticed. "
Gay says he's unconcerned with where he plays, though. The market politics of the NBA don't interest him.
"To me it's basketball. I'd do this no matter where I was."
Zach Randolph has been around this league in big and small markets. He's played in New York, Los Angeles, Portland, and now Memphis. So his viewpoint is a little different, and for one, he comes down firmly on the side of fans of teams like the Grizzlies.
"This is a good team, and this is a good city. Even though our fan attendance hasn't been where we want it to be, I think we can get it back up. It's a good basketball city. It's up and down. There are negatives and positives for guys teaming up like they did back then or even how they are now. But I think you need to keep cities like this."
So while James may think it's great for everyone to be in his position, with constant media attention on a team that's stacked with great players at all five spots like
Joel Anthony
and
Carlos Arroyo
, not everyone is sold that teams like Memphis need the ax just so there can be "stacked" teams.
Check back Thursday for our feature on Rudy Gay on CBSSports.com.