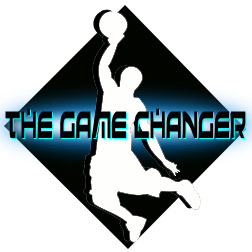 The Portland Trail Blazers finally won in Salt Lake City, Jason Kidd was one rebound shy of a triple double, Gilbert Arenas hit an incredible buzzer beater, Serge Ibaka had a block-of-the-year candidate, and much more. Posted by Ben Golliver.
Each game is made up of elements which help formulate the outcome. Monday through Friday, we'll bring you the elements from the night before's games in our own specialized version of the game recaps. It's not everything that happened, but it's an insight into what lead to the results you'll see in the box scores. This is
the Game Changer.
THE BIG ONE: BLAZERS STEAL ONE IN UTAH
Not since Dec. 2007, when an upstart team led by superstar-in-the-making
Brandon Roy
was in the midst of a 13-game winning streak, have the Portland Trail Blazers defeated the Utah
Jazz
at Energy Solutions Arena. On Tuesday, in Roy's continued absence due to knee pain, no less, the Blazers secured their best victory of the season, 96-91. The Blazers admit ESA is one of their least favorite places to play, but plenty of teams have struggled in Salt Lake. Over the last two seasons, the Jazz were a combined 66-16 at home, losing just eight games at home during both the 2008-2009 and 2009-2010 seasons. Portland's win was Utah's sixth home loss in just 17 home games so far this season, and while the Jazz currently lead the way in a packed Northwest Division race, they'll have to reassert their dominance at home should they want to maintain on their path to a division title. Monday's loss to Portland wasn't heartbreaking, although it did spoil a splendid night from
Deron Williams
, who finished with 31 points and seemingly couldn't miss. Down the stretch, the Jazz struggled with turnovers and an extra-aggressive Portland defense, which hasn't often been seen this season, made a number of late block shots and deflections. For the Blazers, LaMarcus Aldridge led the way with 26 point, seven rebounds and two blocks, and he continues on a torrid streak in Roy's absence. His game is expanding due to increased touches and, while there have been fits and starts, Aldridge has started to show a new resolve late in games to attack the paint and get buckets. A sweeping hook in the fourth quarter on Monday night had him pounding his chest, and left Blazers fans that have watched him for years enjoying the moment in pleasant surprise. This was Portland's best win of the season, the first time they have beaten a team that now has 20 or more wins. That it came on the road in a tough environment only makes it that much sweeter.
GO-GO-GADGET LINES OF THE NIGHT:
Andray Blatche
: 17 points, 14 rebounds, two assists, three steals, two blocks in 37 minutes in a Washington
Wizards
road loss to the Houston
Rockets
. It was Blatche's first game back from a suspension for fighting with teammate
JaVale McGee
.
Jason Kidd
: 10 points, nine rebounds, 10 assists, and four steals in 36 minutes in a Dallas
Mavericks
road win over the Oklahoma City
Thunder
.
Chris Paul
: 22 points, six rebounds, 13 assists, and five steals in 41 minutes in a New Orleans
Hornets
road loss to the Minnesota
Timberwolves
.
Deron Williams
: 31 points, six assists, three rebounds, one steal in 38 minutes in a Utah Jazz home loss to the Portland Trail Blazers.
DON'T MISS:
OLD FRIENDS:
Utah Jazz guard Deron Williams and former teammate
Wesley Matthews
, who signed a mega-contract with the Portland Trail Blazers last summer, catch up during Monday night's game in Salt Lake City. It was Matthews' first regular season return trip to Salt Lake City since signing with Utah's division rival and he was met with a standing ovation.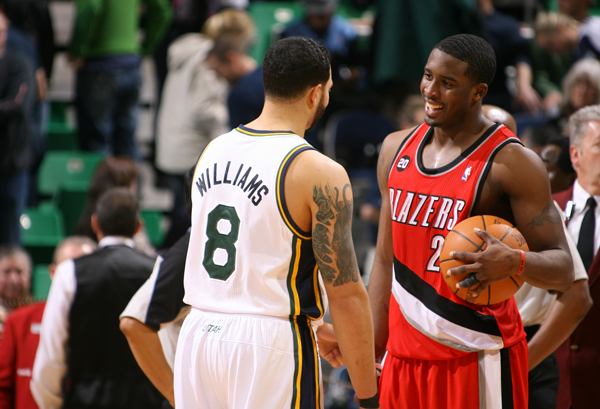 WHIMSY:
Gilbert Arenas hit an
unreal 3/4 court buzzer beater off the scoreboard
. You must watch it.
GET THAT OUT OF HERE:
Oklahoma City Thunder big man Serge Ibaka rejects Dallas Mavericks big man
Tyson Chandler
in stone cold fashion. Cue the tape,
via 20sadecebirmahluk on YouTube
.
FINAL THOUGHT:
Mike Breen, Jeff Van Gundy and Mark Jackson
were named by Sports Illustrated
as this year's best three-man booth. Mama, there goes that man to the podium with his acceptance speech.