Posted by Royce Young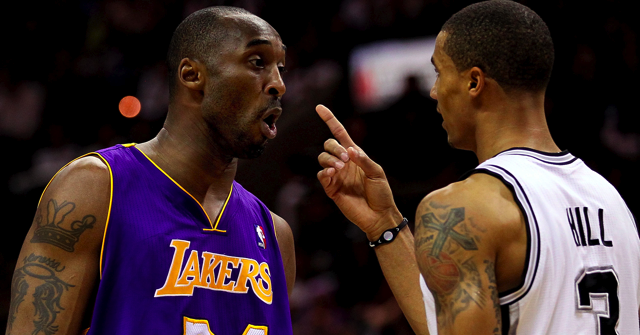 From the opening tip, you could feel the intensity. This might've been a regular season game on Dec. 28, but it sure seemed like something you'd see April 28.
Two titans of the postseason were playing and even though it's just one more of 82, anytime the
Spurs
and
Lakers
hook up, pleasantries don't stay in the arena very long.
Kobe Bryant
and
George Hill
tangoed in the first half, pointing fingers in faces and saying, um, stuff to each other.
Ron Artest
roped Tony Parker on a fast break for a hard foul.
Andrew Bynum
clothes-lined Tiago Splitter on the inside.
Richard Jefferson
and
Derek Fisher
had an exchange with Fisher picking up a technical after chasing Jefferson down to bump. Hard fouls, technicals, trash talk -- this one just had that extra umph.
But just like a classic Spurs playoff win, San Antonio used stifling defense, smart offense and big plays from role players to overwhelm the Lakers in the fourth quarter, beating the defending champs 97-82 in front of a sold-out AT&T Center crowd.
And here's where we go one of two ways: Is the story how well the Spurs are playing or if the Lakers officially in crisis mode?
Let me hedge here and say both. The Spurs are playing wonderful basketball. They're undefeated at home in December, own the NBA's best record and get something from everybody that steps on the floor. Tim Duncan was just 1-7 from the floor and scored only two points.
Manu Ginobili
went just 3-12 from the field. So naturally, since this is the Spurs we're talking about, someone stepped up.
DeJuan Blair
was a complete difference maker scoring 17 points while also grabbing 15 rebounds.
Gary Neal
-- who you can just picture becoming Robert Horry in the postseason -- hit two huge fourth quarter 3-points to give the Spurs some serious breathing room. George Hill was entirely
terrific
on Kobe in the fourth quarter, frustrating the Laker star into turnovers, bad shots and some serious barking at the officials. And of course one of the San Antonio stars played big with
Tony Parker
pouring in 23 including 14 in the first half.
On the Laker side, things never really looked good. The Lakers almost seemed like the team desperate for energy, frantically looking for a spark. It was almost like they were rattled. Offensively, there was never any kind of rhythm. Especially in the second half where L.A. scored only 38 points total.
The Lakers shot 35 percent for the game and the man leading the charge there was Kobe. He went just 8-27 from the field for 21 points. Pau Gasol was 3-8 for only nine points.
Lamar Odom
was 3-9 for nine points. Really, L.A.'s best offensive player was
Matt Barnes
who went 3-4 from the field.
So again, good Spurs or bad Lakers? From my perspective, it looked like a game where the Lakers self-combusted a bit as Kobe kept shooting and shooting while a very good team in San Antonio took complete advantage of it. Take this game for L.A. and put it against Sacramento and the Lakers probably win ugly. But against the Spurs? You lose by 15.
That's not something that should sit well with the Lakers. Kobe has been pretty honest with his appraisal of the team, feeling at times that they don't seem interested or committed enough. And that's what really showed against San Antonio. Kobe tried to do way too much, the offense never ran through Bynum or Gasol and defensively, there wasn't ever any kind of urgency.
This makes three straight losses for the Lakers, all coming by double-digits. And while it seems like this might be a time to scratch your head, keep in mind, this
is
December, even if the game felt like it was in April. It's not time to worry... yet.