Miami Heat forward Chris Bosh wants to average 10 rebounds per game. Can he do it? Posted by Ben Golliver.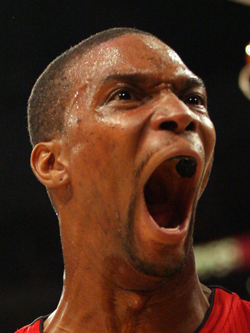 Miami Heat forward Chris Bosh has stopped falling completely short of expectations, and he hasn't wasted any time in responding to his many critics.
The Miami Herald quotes
Bosh as saying that he is feeling extra motivated to "shut up" his detractors.
"For some reason, people think I can't play basketball. I'm a very good basketball player. I can perform when it's time. For some reason, coming into this situation, people were just nitpicking. It gives me an added sense of motivation to do well because I know more people are watching, and just to shut them up. To be frank."
Part of his plan, the paper reports, is to silence critics is to up his rebounding numbers significantly.
Bosh, averaging 8.2 rebounds, said, "Ten is my number. I'm going to get there. It's going to be a little tougher than it would if I would have gotten off to a better start. Once I get to 10, I'll be happy.'' He averaged a career-high 10.8 last year.
That's a noble and intelligent goal for Bosh, and it's worth a bit of exploring. But can he do it? Currently, only 10 players in the NBA average 10 or more rebounds per game. Those players:
Timberwolves
forward
Kevin Love
,
Magic
center
Dwight Howard
,
Clippers
forward
Blake Griffin
,
Grizzlies
forward
Zach Randolph
,
Raptors
forward
Reggie Evans
,
Bulls
center
Joakim Noah
,
Bucks
center
Andrew Bogut
,
Lakers
forward
Pau Gasol
, Blazers center
Marcus Camby
and
Warriors
center
David Lee
. In other words, Bosh is setting his sights pretty high. Through 33 games so far this season, Bosh has collected 271 rebounds. Bosh hasn't yet missed a game due to injury or suspension, so he's on track to play all 82 games. If he were to play the entire season without injury, Bosh would need to secure another 549 rebounds to achieve his goal. That averages out to 11.2 rebounds per game, or roughly a 37% increase over his current rate. In other words, he's dug himself a pretty big hole. While Bosh's current rate of 8.2 rebounds per game is good for 29th in the league, the necessary 11.2 rebounds per game is more than all but seven players in the NBA have managed so far this season. In other words, he's asking himself to make the jump from "best rebounder on a team" to "super elite rebounder." Bosh has also only grabbed 11 or more rebounds seven times in Miami's 33 games and has only grabbed more than 11 rebounds four times this season. That 11.2 rebounds per game number is also above any of Bosh's individual season averages. Bosh has averaged over 10 rebounds per game on three occasions: 10.7 in 2006-2007, 10.0 in 2008-2009 and 10.8 in 2009-2010. However, he is playing fewer minutes (35.2) so far this season than he played in any of those seasons. In other words, he's asking more of himself during the balance of this season than he was every able to produce, including during his contract season last year. And he's asking himself to do it in fewer minutes. Will Bosh be able to reach his goal? A cursory examination reveals that it's not impossible, but it will be quite difficult and it will require Bosh to significantly up his output and maintain that increased production consistently. Should Heat coach Erik Spoelstra play Bosh heavier minutes down the stretch of the season, that would be a big help. Also, Bosh's health is a major factor. Every game that he misses ups the number of rebounds he must grab in the games he does play until he compensates for his slow start.