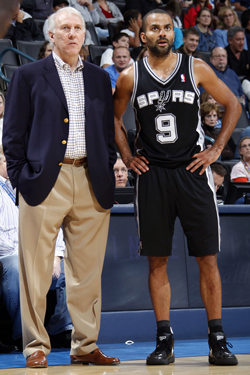 Posted by Royce Young
If you want to just do this all simple like, start with the standings. San Antonio is 27-4, which is the best record in the league. Dallas, while owners of a very nice 24-6 record, is two and a half games back of the
Spurs
.
So we're done here, right?
Actually, there's a lot more to it.
No doubt the
Mavericks
good. Really good. Forget that loss to the
Raptors
without Dirk. Every good team loses to someone they shouldn't. And when you're missing your very best player, you've got a good excuse too. But what separates San Antonio from Dallas right now is that the Spurs don't have a Dirk.
Wait, I know what you're thinking. That should make the Mavericks
better
, right? Not having a great, MVP-type player like
Dirk Nowitzki
is what makes San Antonio
better
than Dallas? Does not compute, right?
But it does. Because the Spurs are 27-4 despite not having a guy score 20 points a game. The Spurs are 27-4 with
Tim Duncan
averaging career-lows all over the place. The Spurs just whipped the defending champion
Lakers
with Duncan scoring two points and grabbing four rebounds. Tim Duncan, two points, four rebounds! Can you
ever
imagine the Spurs beating a good team five years ago with Duncan playing like that?
The Spurs are 27-4 because of
Gary Neal
. Because of Richard Jefferson's rebirth. Because of
DeJuan Blair
. Because of
Matt Bonner
. No team understands the role player concept and how each guy has value more than San Antonio. That team works completely in unison. It's like an engine on a 2001 Honda Civic. Nothing all that spectacular, nothing all that flashy. But everything works perfectly together.
Not to say the Spurs don't have some serious players though. You could make a legitimate case for
Manu Ginobili
as an MVP candidate. He's been the glue for San Antonio the past decade and when he's healthy like he is currently, he one the biggest X-factors in the league. Tony Parker is healthy again and playing at an All-Star caliber level. George Hill is one of the most underrated combo guards in the league.
And then there's the trump card for the Spurs. It starts with a "g," ends with two more "g's" and a frown. Rick Carlisle is a nice NBA coach, but he's not Gregg Popovich. Coach Pop is one of the few NBA coaches that you really know makes a difference with his team. Phil Jackson, Jerry Sloan, Vinny Del Negro (just kidding)... only a handful of coaches genuinely make their team better despite who's on the roster. Popovich is the leader of that pack. His team's are always ready, always prepared and always focused. Look at the Spurs' home record this season (18-2 and undefeated in December). That shows that his team is never not ready.
Popovich wasn't afraid to make a subtle switch either. San Antonio is running more than ever despite that not being the ideal game for Duncan. But it works for the other pieces and Duncan has adapted. The Spurs are averaging almost 106 points per game, which is fourth in the league. Their point differential is an impressive +8.4 compared to the Mavs' +5.6.
Those things are tangible parts to settling this debate. But it's not always about what meets the eye with the Spurs. They're the league's best and by default, Texas's best, because they march to the company line that's carried them to four titles. There's a reason they're great, even if it's not painfully obvious.