The Spurs are great, the Mavs are better this season. Here's why they're the Best in Texas.
Posted by Matt Moore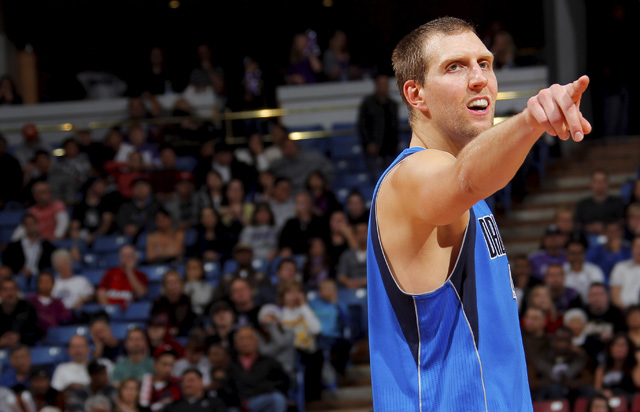 Who's the best in Texas?
The Dallas
Mavericks
, that's who.
Let's start by admitting that this is largely like asking what's better, pancakes or waffles. Done right, they're both pretty awesome with syrup. The Spurs are a deep, talented team that executes with consistency and is led by a smart, capable head coach and an all-world power forward. The Mavericks are a deep, talented team that executes with consistency and is led by a smart, capable head coach and an all-world power forward. Both teams are top teams in the league, both teams are capable of beating anyone on any given night, and both teams are reasonable in having championship aspirations at this point.
That said, while the Spurs currently entertain a 2.5 game advantage over the Mavericks, it's been the Mavericks who have staked their claim as the best team in Texas this year. Consider this: The Spurs are 6-3
against teams in the top ten in point differential
. The Mavericks are 9-2,
an absolutely ridiculous mark
, including wins over Miami, Oklahoma City, Orlando, and Utah. They swept the
Heat
in two meetings. They have beaten the
Celtics
. Now the Spurs have also beaten the Heat, have beaten the
Lakers
, have beaten the
Jazz
and the
Thunder
. But the Mavericks have been just slightly better against elite teams, including ... a November 26th 103-94 win over San Antonio.
So how did Dallas get this good? Consistency and depth. The Mavericks, more than any team in the league, including the Celtics, Lakers, and Spurs, have played consistently well quarter to quarter. With the improved depth at center as
Tyson Chandler
turns back the clock, and with a four-guard rotation that will only improve with the return of Rodrigue Beaubois, the Mavericks have solid depth at nearly every position.
Jose Juan Barea
is always surprisingly good, the annoying player you can't believe is sticking you with daggers.
Jason Kidd
is still incredibly talented even at his age. Have you ever taken a look at how fast he is in transition? Unbelievable at age 37.
Jason Terry
is still lighting it up. And
DeShawn Stevenson
is a well-rounded shooting guard who amazingly isn't a liability under Rick Carlisle's tutelage.
Small forward, though, may be the best situation for the Mavericks. They're able to combo with
Caron Butler
and
Shawn Marion
(who's having a renaissance year). Marion's physical athleticism and Butler's precision makes for a great matchup combination. Being able to adjust his lineup to whatever the opponent throws at him is a considerable asset for head coach Rick Carlisle. At power forward, Marion is a capable small lineup option, but we all know the real answer is
Dirk Nowitzki
(who's a gametime decision Thursday night). Nowtizki has played at an MVP-level this season, rebounding well while continuing to be an absolute monster from the elbow down the stretch. Dirk has the ability still to pump-fake and drive, keeping opponents glued to their stance instead of bodying him, and when that big frame rises up at the elbow, it's nearly impossible to defend. The Mavericks only go as far as the Big German takes them, but he's got a track record of going pretty far. The knock on Nowitzki has been about his playoff performances, where he's a career 46% shooter, averaging 25 points and 10 rebounds per game. That he ran into
Dwyane Wade
going Nova in '06 and a disastrous matchup advantage for vintage Don Nelson in '07 should not confuse the greatness of his career.
And center has been a huge upgrade with Tyson Chandler playing at a tough level for any Western center. Having
Brendan Haywood
as your starting center is okay, not great, but having him as a backup is a boon, even if he is struggling this season. That's six more fouls the Mavs have to throw around a night, and that size has been missing for years in the Big D. Redefining the Mavs as an offensive juggernaut that can also defend (currently
6th in defensive efficiency
) changes the game for Dallas, and that's what's happened this season.
The Spurs are a great team and a legitimate championship contender. They're also the last team to knock off the Mavericks in the playoffs. But right now, with the Spurs having some inconsistencies game to game, and with Duncan having a bigger drop-off than Dirk, the Mavericks are the best squad in the Lonestar state. We'll find out if that's true heads-up Thursday night when the two meet.
Yippie-kay-yay.